Customer Issue
We recently blocked a user who had created a number of audiences, and all those audiences now show zero users.
Environment
Studio | People | Audiences
Issue Details
When a user is blocked or demoted from a Studio user to a Member, any audiences they have created may show as having no users and will display (0) next to the audience name: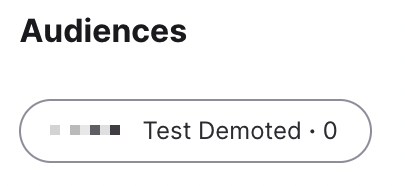 Whilst this may look like the users have been removed from the audience, this is a visual issue only and the users are still included in that audience.
Adding that audience to a campaign will again show no users initially, however the Plan section will show that those users are still included:



After the audience is added to the Campaign, the Review page will show it will reach the intended audience:
Resolution
Whilst the audience is showing (0), the Campaign Review page will show that the users will still be included and will receive the Campaign as intended.
Please check the current status of this issue on the Known Issues Tracker. (Issue ID: CSUP-2362)