Introducing the Firstup Microsoft Teams App: Unleash Engagement and Productivity Within Teams
Today, we're excited to announce the availability of our Firstup Microsoft Teams App in the U.S., available in Microsoft AppSource! Our EU version will be available shortly. This represents a significant advancement and opportunity for our customers who rely heavily on Microsoft Teams as their primary collaboration platform.
At Firstup, we're all about bringing your most important information and resources directly to the employee where they are, ensuring streamlined access, consumption, and engagement. Within the Firstup Microsoft Teams App, your employees can now access their personalized and targeted Firstup experiences without ever leaving Teams, driving employee engagement and boosting productivity across your organization.
Introducing the *NEW* Firstup Microsoft Teams App
While we have previously offered integrations with Microsoft Teams, the Firstup Microsoft Teams App takes it to a whole new level. Let's dive into the features and benefits of this exciting new App.
Our brand new Firstup Microsoft Teams App Integration delivers all Firstup content, communications, and resources to Teams–serving as the intelligent communications pipeline for the enterprise. The App is comprised of two great experiences available to customers:
Serving the entire Firstup web experience directly from the main menu, which Microsoft calls their Tab app.
AND a workflow that lets organizations connect relevant Firstup Topics to their Teams Channels–this is now one combined experience underneath the App integration.
View our quick video highlighting these two experiences.
The Branded Tab App Experience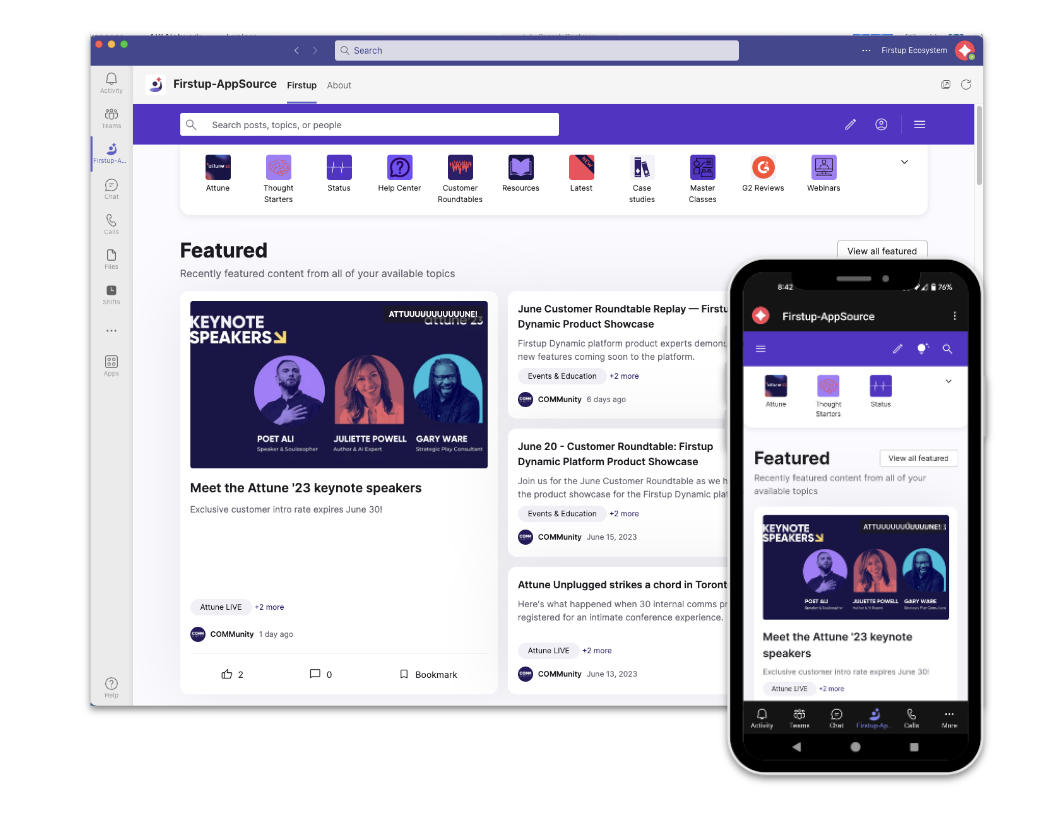 Delivering a true omni-channel experience, the branded Tab experience serves employees their personalized Firstup experience, at the right time, and–most importantly–in the RIGHT place for engagement and consumption.
Employees can leverage the full power of Firstup's digital assistant, targeted shortcuts, helpful integrations, and more directly to employees' Teams experiences. It's a one-stop hub for the information and resources they need to enhance productivity throughout their day. Compliance-conscious organizations can rest assured that employees will receive alerts and warnings when accessing external links, ensuring adherence to strict policies.
Firstup Topic-to-Channel Mapping Experience
Our Topic-to-Channel Mapping, previously known as 'the bot,' is now seamlessly integrated into the App.This mapping enables content to be created in a Firstup Topic and pushed to a corresponding Microsoft Teams channel, complete with alerts for new content.
We've made an exciting update to Topic-to-Channel Mapping as part of this new release: Once an employee clicks on that linked content, the flow opens inside of the fully integrated Tab App experience–keeping everyone within Teams for a seamless user experience.
The Topics-to-Channel Mapping experience is completely self-service, allowing admins to make updates along the way. When external links are clicked, users will receive a warning message to ensure they maintain compliance with any IT or privacy policies and procedures. Specific feature toggles also help admin maintain compliance when opening external links.
Purchasing the Firstup Microsoft Teams App
Current customers interested in the Firstup Microsoft Teams App can reach out to their dedicated Firstup Account Team for more information on the purchase and implementation process.
Organizations considering a Firstup purchase, please visit https://firstup.io/.
Unlock the power of the Firstup Microsoft Teams App and revolutionize your employee engagement and productivity within Teams. Discover the seamless integration, personalized experiences, and enhanced collaboration capabilities today!
Installing and Configuring the Firstup Microsoft Teams App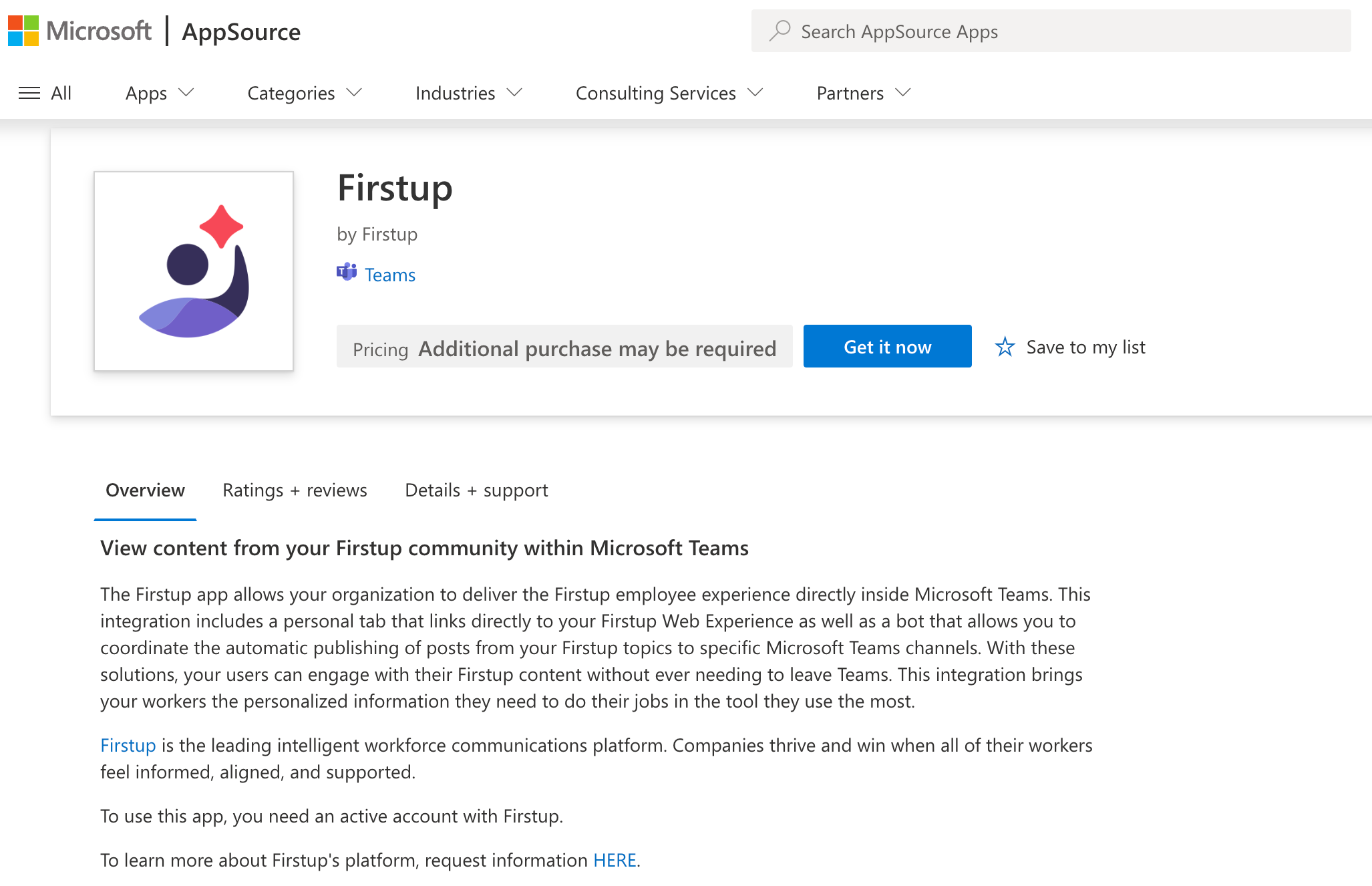 The Firstup Microsoft Teams App is now available in the U.S. Microsoft AppSource (EMEA coming quite soon! Stay tuned).
Please note that in order to complete the following installation instructions you must have access to Microsoft Teams, an active community with Firstup, and a contract with Firstup for this premium feature.
As mentioned above, The Firstup MS Teams app offers two types of integrations: the tab app experience and topic-to-channel mapping. You can use the tab app experience and topic-to-channel mapping integrations separately or together, however, we recommend installing both to maximize your experience.
Please utilize the following walkthrough articles as you self-install:
For any questions, please reach out to Firstup Support or your account team.