Strategy packages are a collection of strategic services delivered by Firstup experts to help maximize your community in support of specific business priorities and outcomes.
Our strategy packages are 2 to 3-month engagements. Based on the package, they can include:
Strategic consulting
Customer best practices
Planning workshops
Additional platform deliverables
Please contact your CSM to learn more about our packages and discover which one is the best fit for your community.
Strategy Package Delivery Model
Each strategy package follows a similar delivery model to the one below: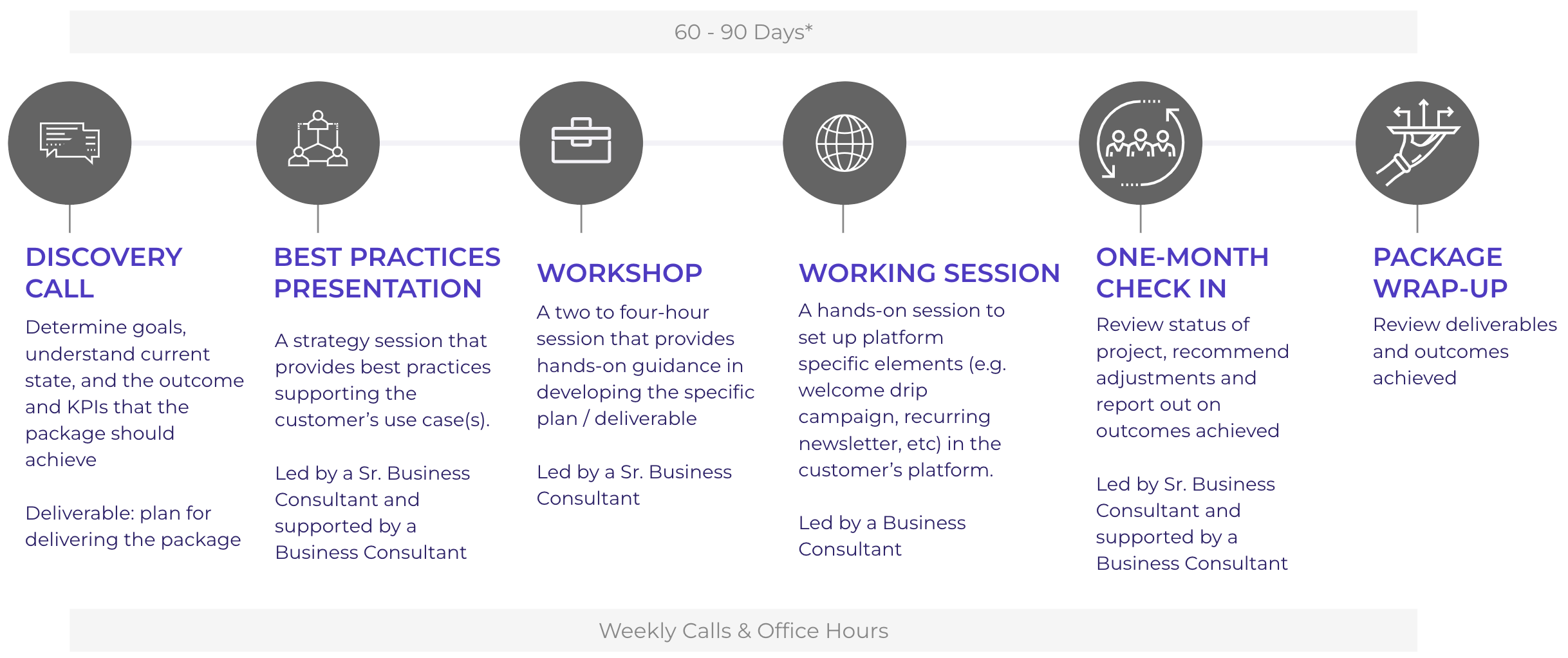 Strategy Package Examples
Advanced Content Strategy: Strategy and planning focus on enhancing digital content creation and engagement.
Company Events: Strategy and planning on event-specific strategy to increase online visibility, improve brand recognition, and boost employee engagement.
Diversity, Equity, & Inclusion: Strategy and planning using platform to support DEI goals and objectives.
Employee Advocacy: Strategy and planning for growing advocate platform usage and adoption.
Executive & Leadership Communications: Strategy and planning for growing leadership platform usage, content contribution, and/or adoption.
Metrics & Insights (foundation): Best practices reporting and data-driven guidance on opportunity areas, including personalized standard reporting set-up and training.
Governance & Training: Strategy, planning, and support for governance and content contributor training.
Frontline Adoption & Organizational Rollout/Team Activation: Strategy and planning for growing frontline employee platform usage and adoption.
Launch/Relaunch Strategy: Strategy, planning, and training for 1) first-time launch after completed implementation, and 2) program refresh, commonly used for new community admins.
Custom Homepage: Optimize platform and leverage expert knowledge to align custom homepage with brand identity.
Mergers & Acquisitions: Strategy and planning for platform usage during a merger or acquisition.