October is here, and with it comes an exciting Firstup release that brings two exciting updates into the spotlight. Say hello to Banned Words in User-Generated Content and Enhanced Metrics. These enhancements are designed to ensure content moderation is more efficient and that your campaign insights are even more accurate, insightful, and actionable. Read on for more details.
Introducing Banned Words in User-Generated Content (UGC)
Efficiency Boost: Content moderation is now more streamlined and less time-consuming. Banned words, a familiar tool in comment moderation, have been extended to user-generated content. This means you can now automate the moderation process and ensure a safer, more compliant platform.
Automatic Moderation: When users include banned terms in their posts, our system will automatically replace these terms with musical notes 🎶. This not only maintains a positive and brand-aligned user experience but also significantly reduces the risk of offensive or inappropriate content appearing on your platform.
Learn more about banned words here!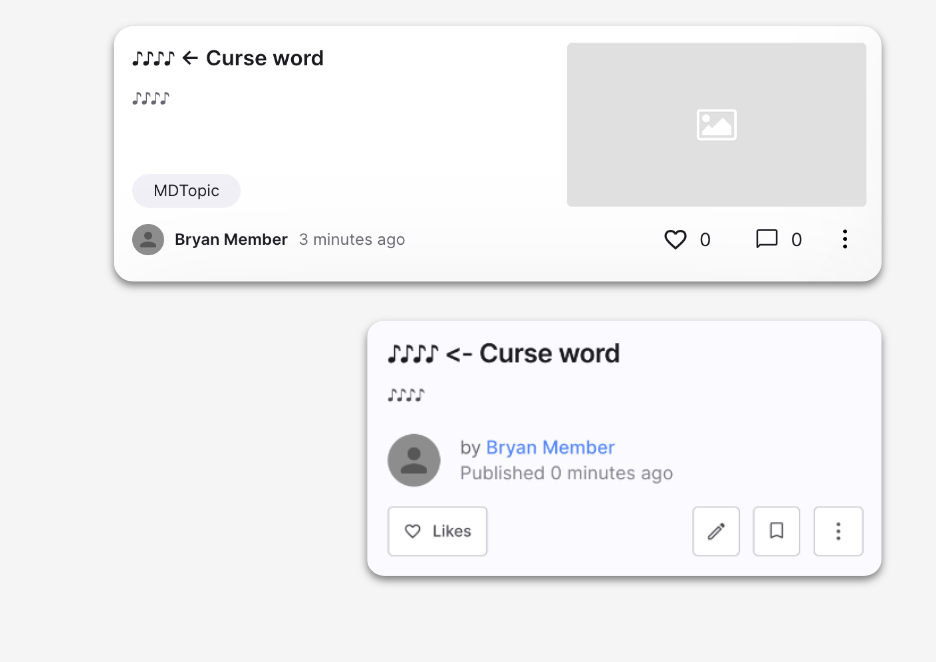 Metrics Update 2023
Our commitment to providing you with valuable insights continues with the Metrics Update 2023. We've fine-tuned our metrics to ensure you get the most accurate and relevant data for your campaigns. These changes pave the way for more advanced analytics capabilities in the future. Some of you may have been a part of our Beta and Early Access programs, but we're excited to release these metrics enhancements to all Firstup Customers using our new Creator Studio this month.
New Metric Terms: We're introducing new metrics like "Reached Users" and "Impression" to provide a deeper understanding of user interactions. "Reached Users" measures users who have had an impression, open, or engagement with at least one piece of content. "Impression" is a touchpoint for a user to be exposed to a piece of content, including seeing a content card in the web experience, email, Assistant, or push, or explicitly opening an email.
Updated Metrics: We've refined % Opened Users, % Liked Users, Engagements, Clicks, and Email metrics for more precise reporting. % Opened Users now measures how many users active in your platform are reading your content. % Liked Users tracks how many active users in your platform are liking your content. Engagements encompass actions beyond previewing, opening, or reading a piece of content, such as liking a post or clicking on an embedded link within the post. Clicks refer to a user clicking on a link within a post or campaign.
Reports Overview: While most reports will remain familiar, there are enhancements to improve usability and performance. We're introducing three new core reports: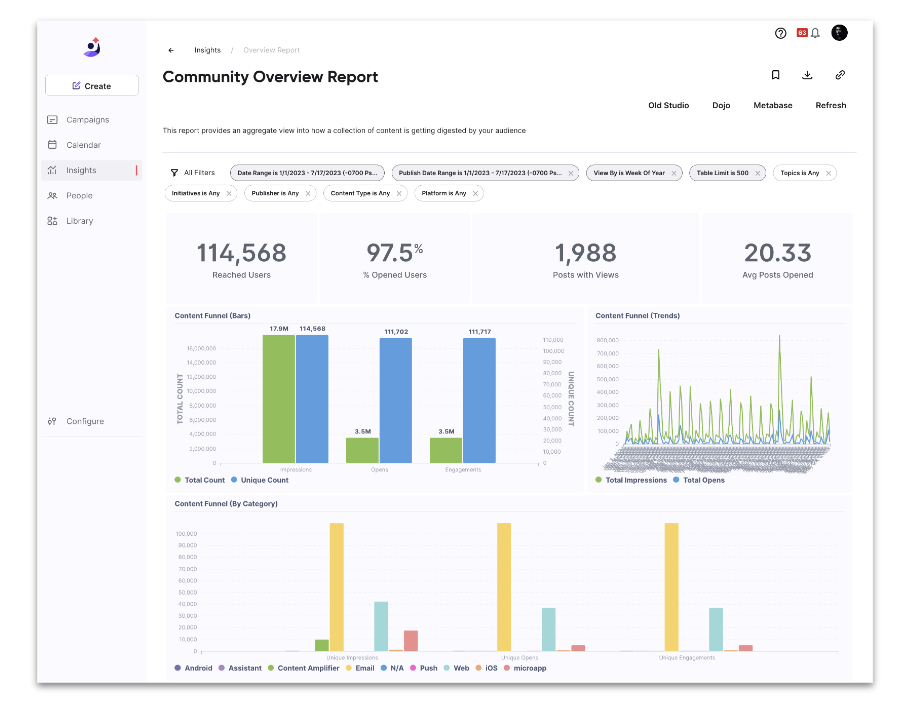 To streamline the reporting structure, the following reports will be sunset:
Articles Overview
Article Performance
Executive Summary
Initiatives Overview
Viewer Overview
Topic Performance
Where can I find more detailed information?
For a deeper understanding of how these changes affect your metrics, we've provided comprehensive documentation that you can refer to. We want to ensure that you get the most out of these updates and can harness the power of your data.
These changes pave the way for a more insightful and data-driven experience for you and your employees!