The Firstup MS Teams app offers two types of integrations: the tab app experience and topic-to-channel mapping. The tab app experience lets you access the Fistup web experience within MS Teams, so you can interact with your community without leaving Teams. This is particularly useful for mobile users who want to avoid opening another app to access the member experience.
Topic-to-channel mapping automatically shares content from your Firstup topics to your MS Teams channels. It notifies users about new content that is specifically relevant to them.
You can use the tab app experience and topic-to-channel mapping integrations separately or together.
To integrate Firstup with MS Teams with topic-to-channel mapping, refer to Integrate Firstup with MS Teams - Topic-to-Channel Mapping.
Install and Configure the Tab App
To complete these instructions you must have access to Microsoft Teams, an active community with Firstup, and a contract with Firstup for this premium feature.
Install the app corresponding to the region in which you have your Firstup community hosted.
US: https://appsource.microsoft.com/en-us/product/teams-app/WA200001318
EU: https://appsource.microsoft.com/en-us/product/teams-app/WA200005212
Feel free to customize the branding of the app.
Click Add to install the tab app component.


Click on the Apps side tab.


Click on the Firstup app under the Built for your org section.


Click Add or Open to be taken to the Firstup personal tab app.


Sign in using your Firstup email address and password.




You will now be able to navigate the member experience within Teams.


Insights and Reporting
We are tracking user engagement data in our integrated Firstup Teams feature and now have a new way to view engagement data from our integrated experience within MS Teams.
The behaviors captured from the integrated Firstup experience via the branded tab have rolled into a new 'Platform' option called 'MS Teams'. Customers are able to see engagement data from Teams in all standard Insights reports. This includes aggregated data, which contributes to high-level KPIs such as total reach, as well as channel-specific insights. Customers can dive into specific metrics, such as the number of active users on Teams and the engagement levels of particular campaigns via Teams. This feature provides a comprehensive view of user interaction within Teams, empowering you to make data-driven decisions and optimize your engagement strategies effectively.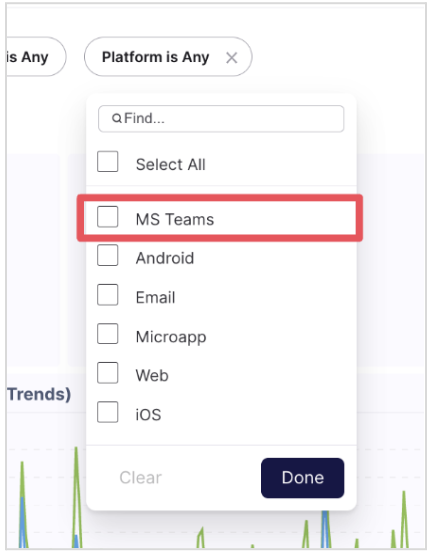 Please note that Insights will only reflect engagement from our integrated Firstup experience within MS Teams. This data will not include engagement from our web or mobile app experiences, or from activity within Teams channels. However, we are considering adding these functionalities in a future release.
To summarize:
We have added a reporting feature to track metrics within Firstup's integrated experience in Teams.
Currently, we cannot track metrics from Teams channels, even for Firstup topics. This is something we plan to address in the future.