Note:  This article only applies to customers with access to the member experience and, therefore, does not apply to email-only customers. Your role and restrictions will determine whether all functionality referenced will be available. For more details on Studio access, please refer to the Defining Roles and Restrictions article.
Studio users can publish from the mobile app or web experience! You should still use Studio for full editing power, but you can use direct publishing to quickly and easily publish content on the go. From the member experience you are able to publish immediately (your campaigns are not subject to "review" like member content) and some toggles are available such as Commentable, Translatable, and Shareable.
Direct Publishing Permission Table
Action
Administrator or Community Manager
Publisher
Topic Manager
Publish immediately (regardless of auto-publish setting)
*
Save as Draft
**
Set as Shareable
**
Configure post:

Commentable
Translatable
Archive
*Within assigned topics only. Topics Managers can only publish directly to their assigned topics. Campaigns published to non-assigned topics will be treated like a submission from a Member.
**Topic Manager can do these things in Studio but not the member experience.


Mobile app settings view for Administrators, Community Managers, and Publishers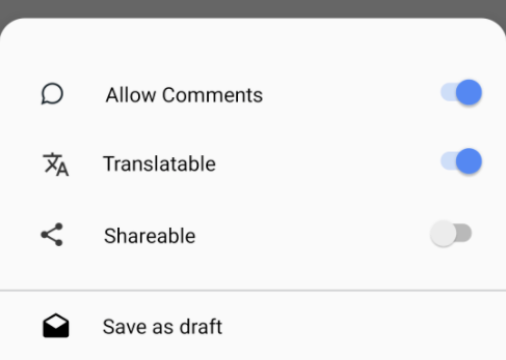 Mobile app settings view for Topic Managers



How to Use Direct Publishing
To use direct publishing, simply create content as outlined in the article on creating content. Depending on your Role in Studio, additional options will be available to you (see above).
There is one important requirement for all Studio users:
You must have access to the topic in the member experience in order to submit content to the topic. In other words, if the topic is targeted then you must be included in the topic targeting.
How to Edit Content
You can edit content in Studio or edit content from the member experience as outlined in Submit and Edit Content.
How to Analyze Your Content
At any time, post authors can see in more detail how their campaigns are performing.
Mobile App
Log in to the mobile app.
Navigate to either:
Submit Content - swipe up on the window to see your content.
Profile (under the stack icon) - scroll down to the Recent Activity and select See All.
Under Recent Activity, find the post you're looking to review.
Tap the down arrow to open up the post metrics:

Reach: The total count of users that have interacted with the post
Opened: Total number of times the post was opened
Likes: Total number of likes on the post
Comments: Total number of comments on the post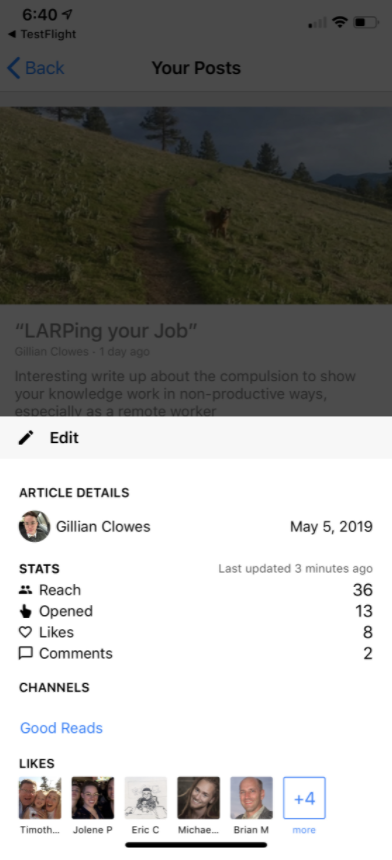 Web Experience
Log into the web experience.
Select your Profile and then Posts.
Under Posts, find the post you're looking to review.
Click on the post to open the full view.
Tap the three dots to open up the post metrics:

Reach: The total count of users that have interacted with the post
Opened: Total number of times the post was opened
Likes: Total number of likes on the post