Note: This is a premium feature or service. This article only applies to your community if your Firstup contract includes this premium functionality. Please contact your Customer Success Manager with any questions about feature availability for your community.
This article reviews how to create and manage translatable content from the new Studio. In contrast, the translation of navigational elements in the user experience is called localization. (For a list of languages available for localization of navigational elements, please refer to this Localization article.)
Turning Translation ON
Any user with access to the Deliver page in Studio can allow translation for a campaign. The Translatable setting is available for users in the web, mobile and microapp experiences. Email translation is not yet available.
By default, translation is enabled for campaigns. When enabled, the translate option will appear on the campaign for some users (see What Members See). The translate button will allow users to translate the Title and Description fields of all content, hyperlinked text, as well as the content included in all content blocks. The translate button does not translate any comments on campaigns. If the translation setting is enabled after a campaign has been published, the translate button will appear on the content card, as well as in the full campaign view in the member experience.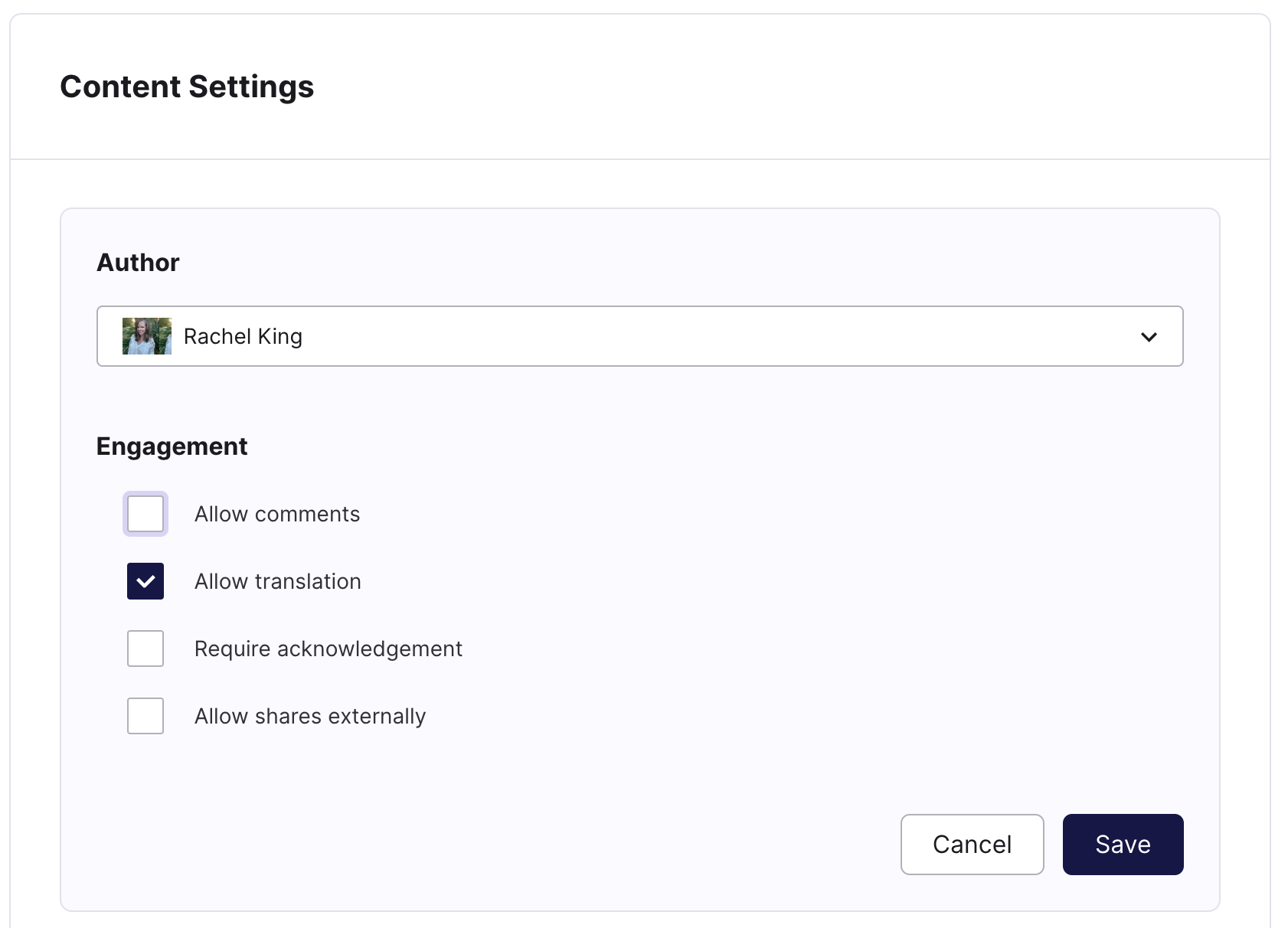 Turning Translation OFF
If translation is disabled at any time, users are no longer able to use the translate button to translate the campaign and the campaign will be displayed as published. This may be desired if your campaign contains language that is hard to automatically translate, such as a large amount of industry-specific vocabulary.
While editing a campaign in Studio, in Deliver, navigate to Content Settings. Uncheck the checkbox next to Allow translation and publish the campaign.
What Members See
If a campaign has translation allowed and the campaign's language (automatically detected) does not match the user's device language, the 'See translation' option will be displayed.
Members can then interact using the translate button on the content card on mobile or web. When 'See translation' is clicked, the campaign is translated into the language of the user's device. Content translations are done through Amazon Translate. 
Users can return the campaign to its original language by selecting 'See original'.
Translation in Web Experience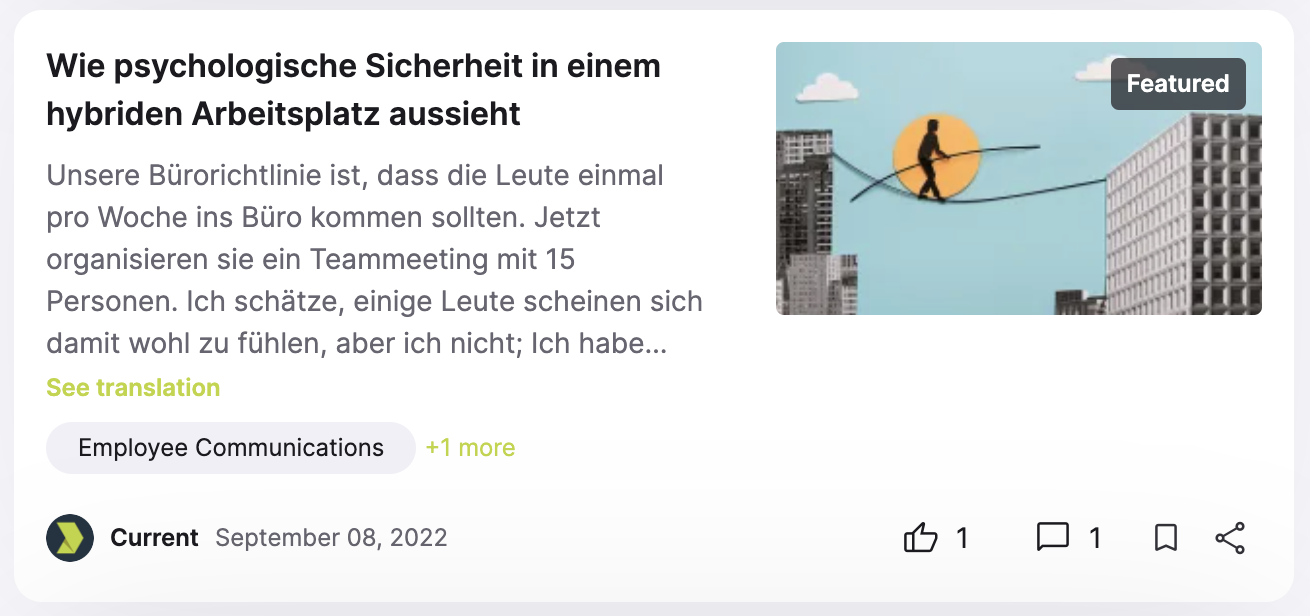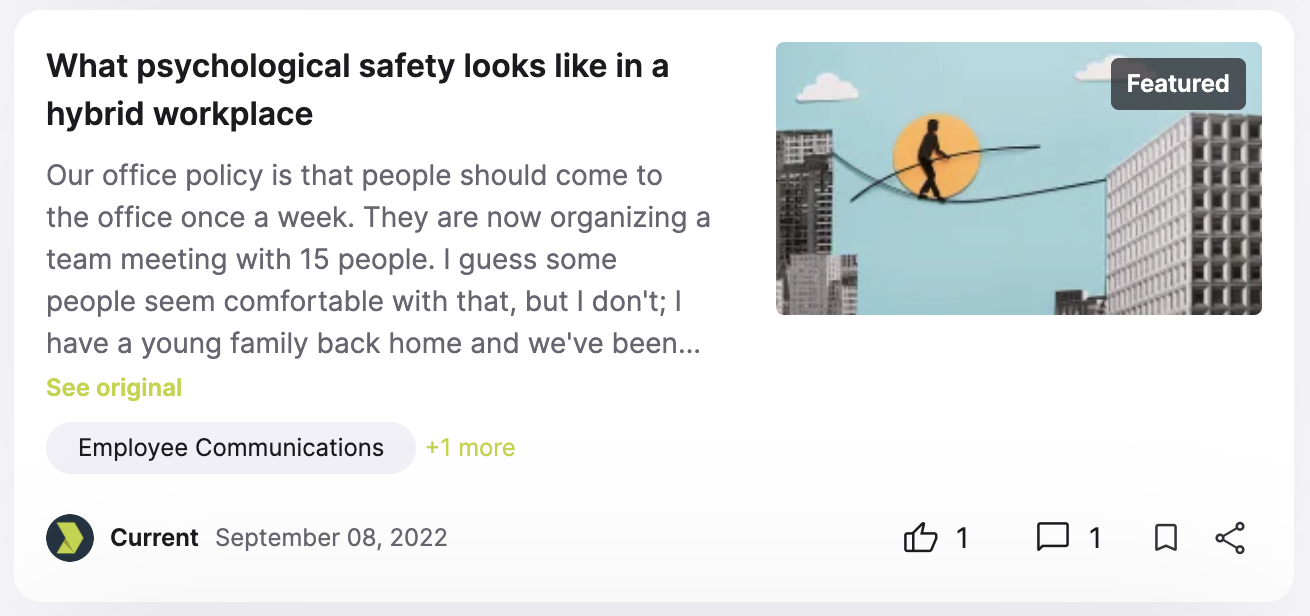 Translation in Mobile App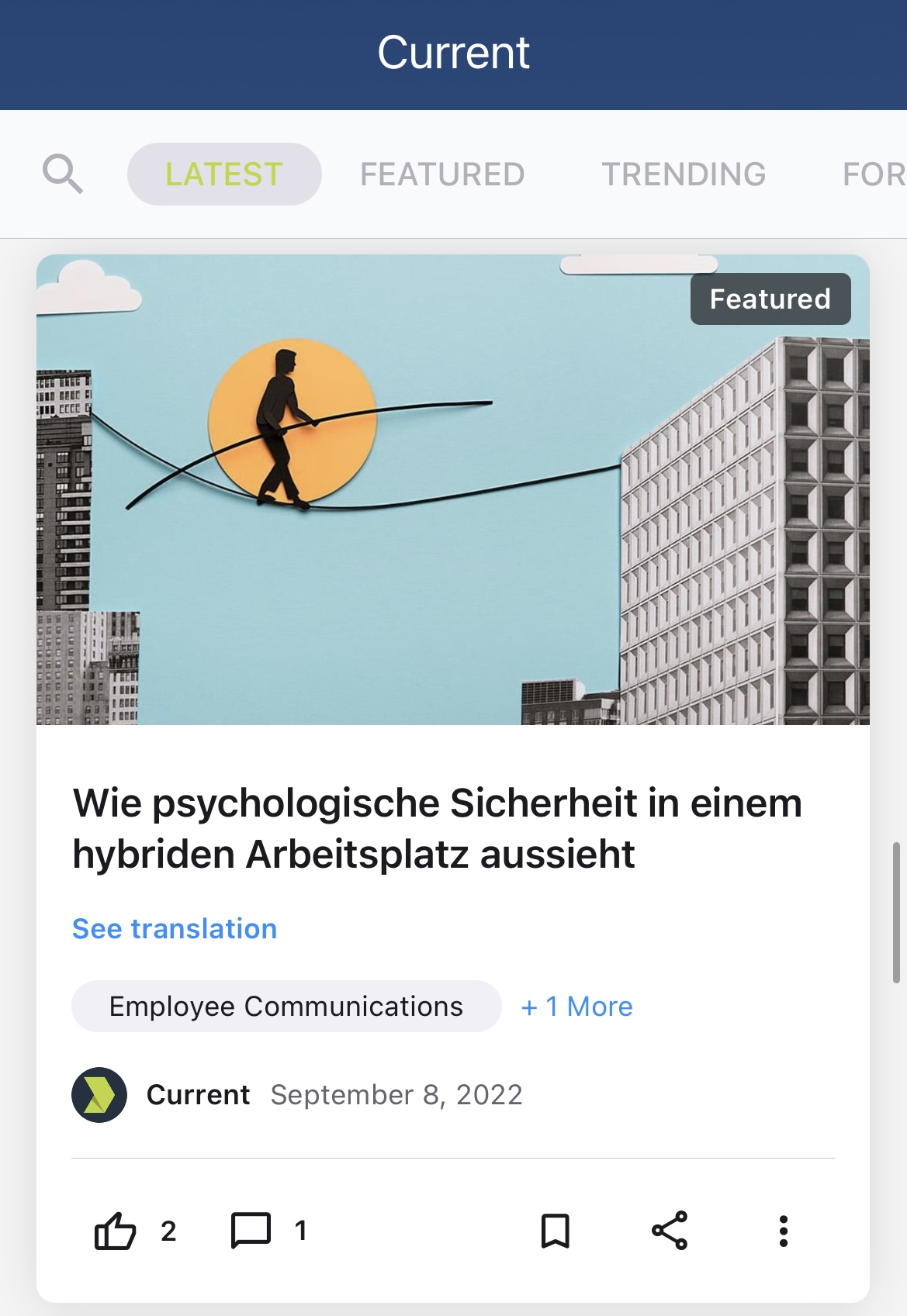 .  
Supported Languages for Translations
Version & Platform Note: Translatable content is available on both the web experience and mobile app version 3.7+. Newly supported languages do not require a mobile app upgrade and will instantly be compatible with all mobile apps versions 3.7 and above. Translatable content is not supported on Content Amplifiers.
Our translation tool utilizes Amazon Translate for these languages: 
Afrikaans

Albanian

Amharic

Arabic

Armenian

Azerbaijani

Bengali

Bosnian

Bulgarian

Catalan

Chinese Simplified
Chinese Traditional
Croatian
Czech
Danish
Dari
Dutch
English
Estonian
Farsi (Persian)
Filipino, Tagalog
Finnish
French
French (Canada)

Georgian

German
Greek

Gujarati

Haitian Creole

Hausa

Hebrew
Hindi
Hungarian

Icelandic

Indonesian

Irish

Italian
Japanese

Kannada

Kazakh

Korean
Latvian
Lithuanian

Macedonian

Malay

Malayalam

Maltese

Marathi

Mongolian

Norwegian

(Bokmål)

Pashto

Persian
Polish
Portuguese (Brazil)
Portuguese (Portugal)

Punjabi

Romanian
Russian
Serbian

Sinhala

Slovak
Slovenian
Somali
Spanish
Spanish (Mexico)

Swahili

Swedish

Tamil

Telugu

Thai
Turkish
Ukrainian

Urdu

Uzbek

Vietnamese
Welsh