Note: This article only applies to Content Publishers, Community Admins, Brand Super Admins, or applicable custom roles. For more details on Studio access, please refer to the Defining Roles and Restrictions article.
Notification Types
In Studio, there are three available channels where your audience can receive campaigns. If multiple channels are selected, Engagement Boost will determine the best channel to reach each member of the audience.
Email
Email notifications will inform users of new content that they have been included in the target audience for. Link, video, and poll blocks will require click-through to the member experience (this will be an external community page for e-mail only customers) or external content hosts.
If a user thinks they should have received an email notification for a campaign but has not, refer to this checklist for common issues that may prevent email delivery for a user.
Assistant
Assistant notifications appear in the member experience and will inform users of new content that they have been included in the target audience for.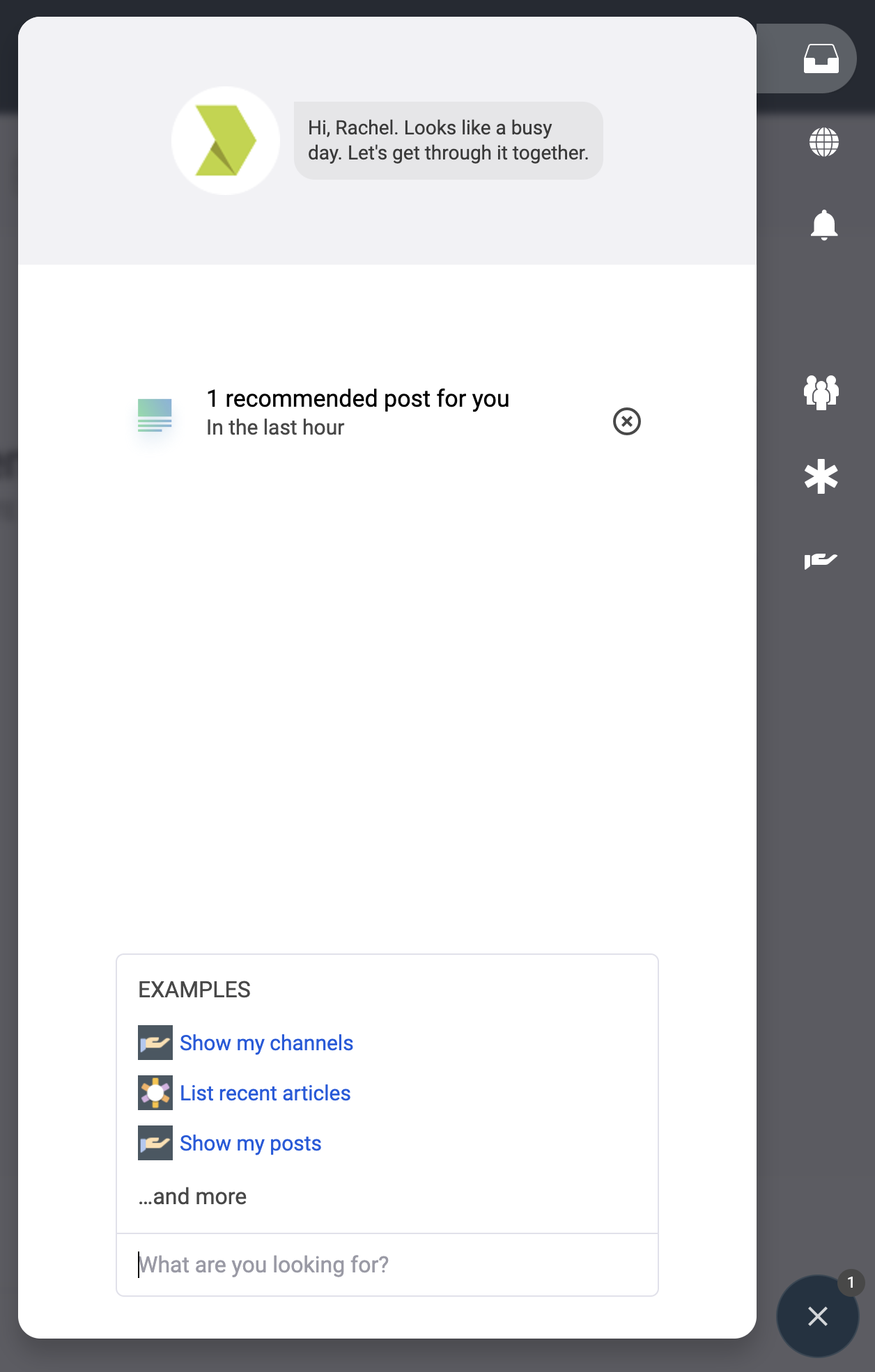 Push notification
A push notification is sent to the mobile device of your users that have installed your mobile app and allowed notifications. Push notifications can be used to communicate urgent messages, key highlights, upcoming events, and announcements, even when a user is not actively using your mobile app.
Conditions to Receive a Push Notification
In order to receive push notifications, users will need to have the most recent version of your app downloaded, as well as be registered and signed in. When a new user downloads your app and registers for the first time, your community's mobile app presents a pop-up window asking users to allow push notifications from the app. It's important for a mobile app to actively ask users to accept push notifications as it increases the number of people who accept push notifications. Accepting push notifications on mobile apps is crucial to the success of your community, as it drives retention and engagement from your users. Check out this article for more information.

Push notifications will appear on your mobile screen like any other mobile notification. Tapping on the push notification will take you to the piece of content in the mobile app experience.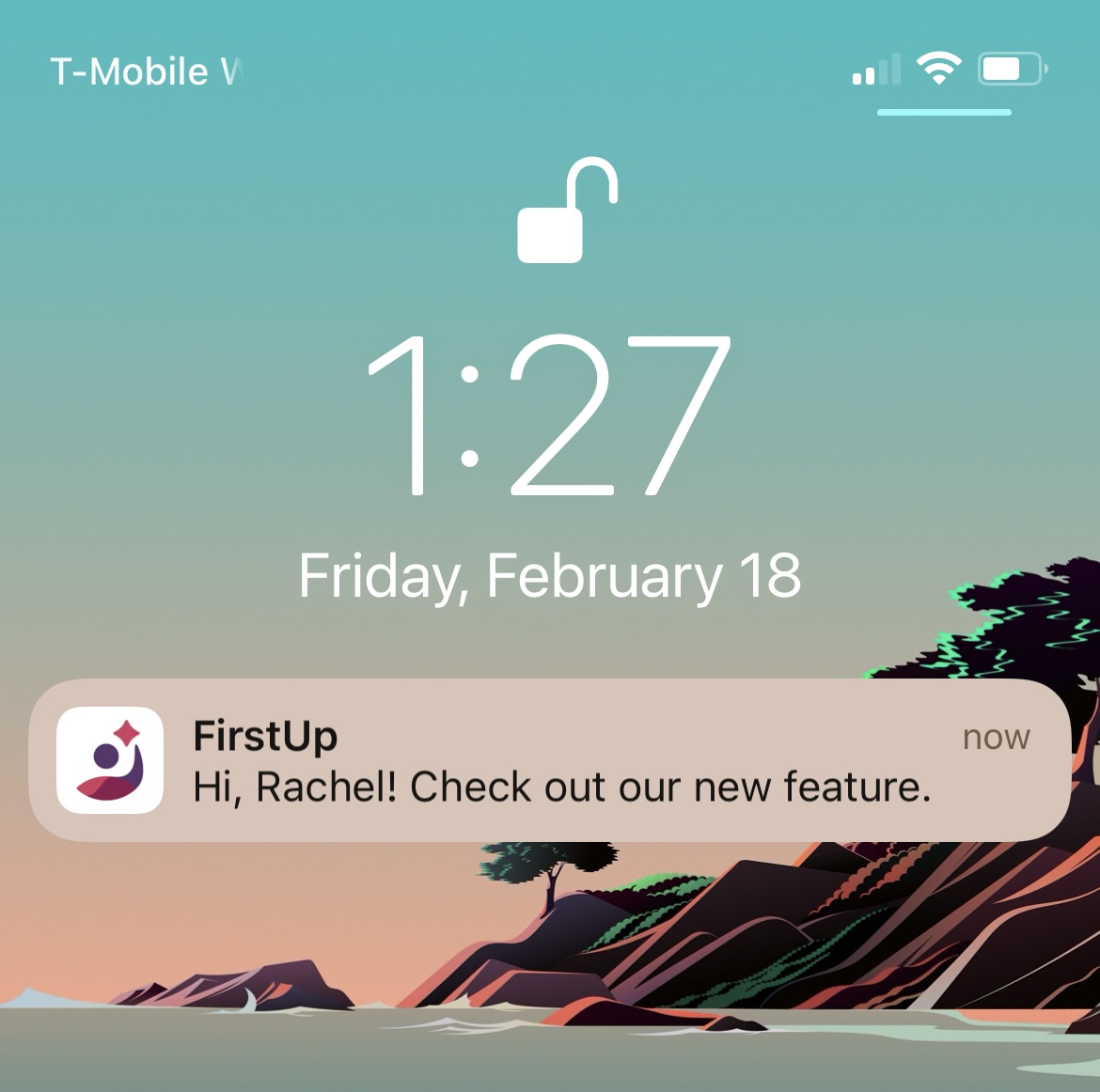 How to Create Notifications
Click Create.




Create a new campaign or edit a current one
Once you have created your campaign, click Continue to configure your Deliver settings.




When you enable Optimized Delivery, Engagement Boost will determine when and how to reach a user via notification. However, it is possible to isolate which channel/s campaign notifications are sent via. 




Click Edit to select your channel/s and customize your email and push notifications.


Customize your email and push notification message/s.

Include emojis in your push notification.
To leverage first or last name personalization variables, select the person icon and select the variable you want. For example, if you choose First Name, we will pull in the first name from each user's profile (if available) and display it in their notification.
Industry stats from email marketing experts show that email open rates can be improved by up to 30%. Preview text may be shown on email clients under (or next to) the subject line. We recommend adding preview text to give users more information on what they can expect to find in your email. Preview text only applies to email, not push notifications. 






Publish your campaign.
Retargeting Notifications
Retargeting notifications can be enabled for campaigns that :
Target at least one audience
Have email or push as enabled channels
Have retargeting enabled in Engagement Boost
By default, retargeting notifications will pull from the configured text for the initial delivery of the campaign. Only channels that are enabled for the campaign will appear here. Text can be updated, and personalization variables can also be added here. 
Retargeting notifications will be leveraged in the order they are configured. None of the configured text is guaranteed to be utilized, however-- this depends on the individual user plans within the audience, and also the duration of the campaign. ex. It is possible for a user to configure two notifs but have a duration that will only allow for a max of a single retargeting attempt. The second retargeting notif will therefore never be sent. It is also possible for a user to configure two retargeting notifs for a campaign that has a max of five retargeting attempts possible. If a 3rd, 4th, or 5th retargeting attempt is planned to be sent to a user, the 2nd retargeting notification text will be leveraged for each of those deliveries.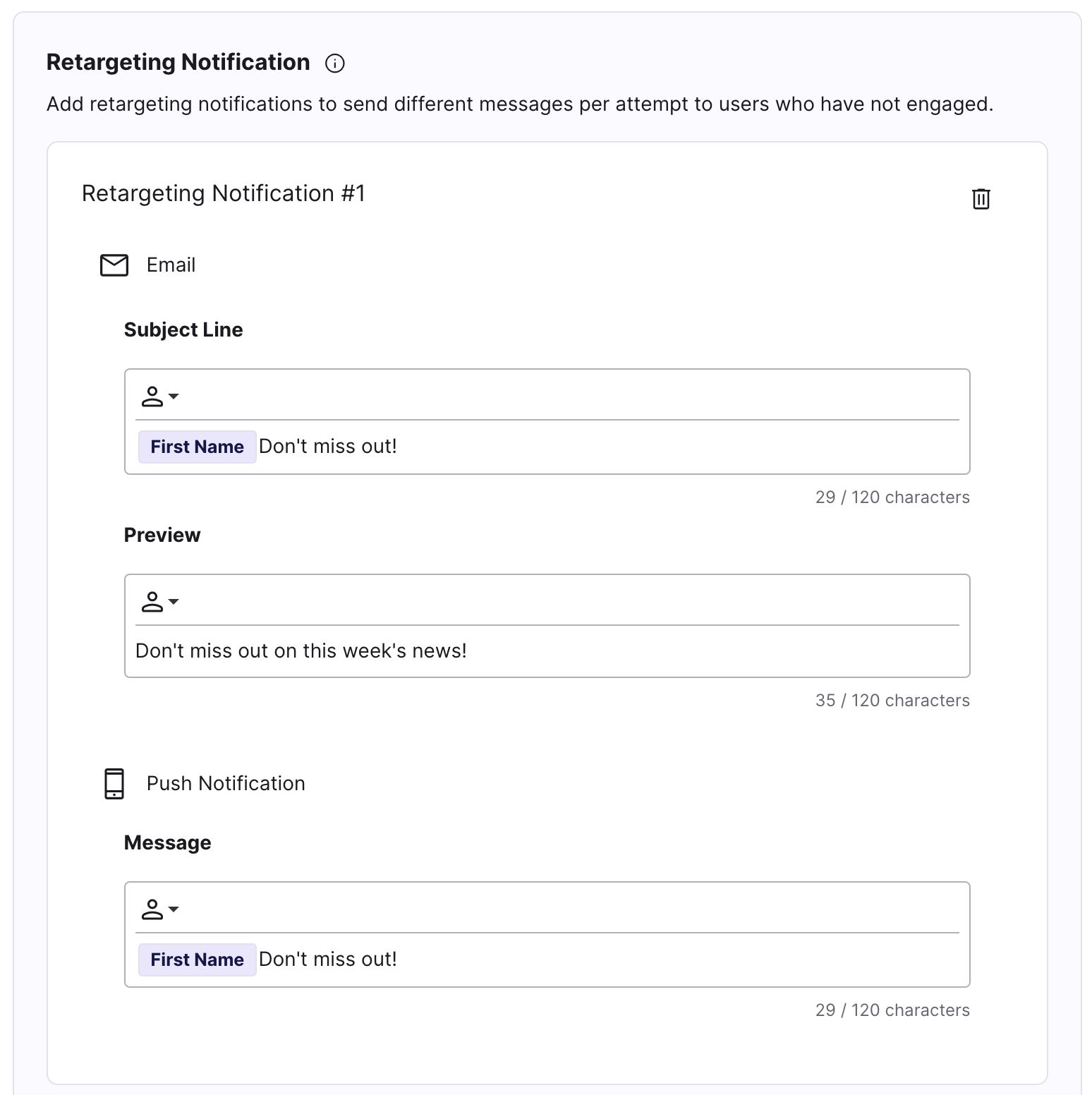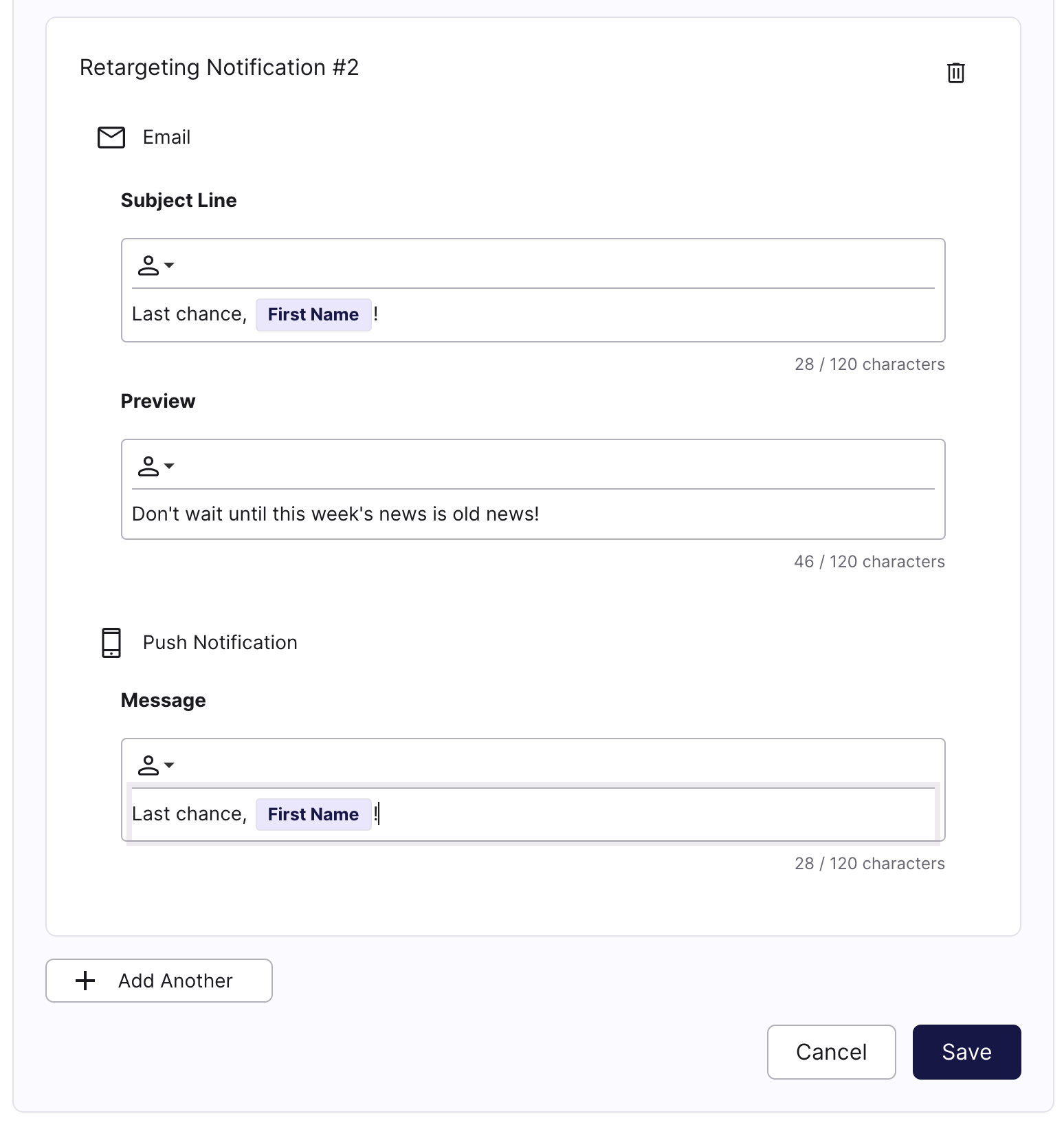 Send a Test Campaign
On the Review page, you have the option to send a test campaign via email and/or push by clicking on the Sent Test Campaign button. On the test campaign screen, select the checkbox next to the channel/s you want to send a test campaign via. You will have the ability to customize the subject text for email and push, with an additional option to customize the preview text for email. First and last name variables can be selected by clicking on the person icon. Once you have drafted your test/s, select your recipient/s from the Recipients drop-down menu and click Send. Learn how to test for email success in this article.

Note: Test campaigns can be sent to Studio users, as well as Members.