Any email client may encounter issues with loading images in emails or collecting link click data. Issues with images and links can seriously hamper engagement.
Allowlist Domains
Individual users in Microsoft Outlook can unblock images from the domain "socialchorus.com" or "onfirstup.com", as outlined in this Microsoft article.
However, to assure that images and links render for your entire team, we recommend working with your internal technology team that handles email security to allowlist images in emails from the following domains. For Outlook specifically, your internal technology team that handles email security can refer to the Microsoft documentation for adding domains to the Safe Senders List in Outlook.
Domains
socialchorus.com
onfirstup.com
As assets may be loaded from a variety of subdomains, and we are in the process of shifting from one parent domain to another, we ask that you allow both of the parent domains "socialchorus.com" and "onfirstup.com".
Outlook: Images display the red X
When you are using Microsoft Outlook, images may display a red X instead of the actual image. When you try to download the image you receive the following error:
The linked image cannot be displayed. The file may have been moved, renamed, or deleted. Verify that the link points to the correct file and location.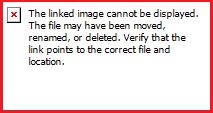 Details on this error and how to fix it can be found in this Microsoft article.