On the Calendar page, Studio users can view and edit campaigns and view metrics for individual campaigns.
Note: Brand Super Admins will be able to see all campaigns across the community on the Calendar page, while Content Creators, Content Publishers, and Community Admins will only be able to see campaigns for which they are part of the target topic or audience.
Access Calendar
Open Calendar by navigating to Calendar on the menu on the left of Studio.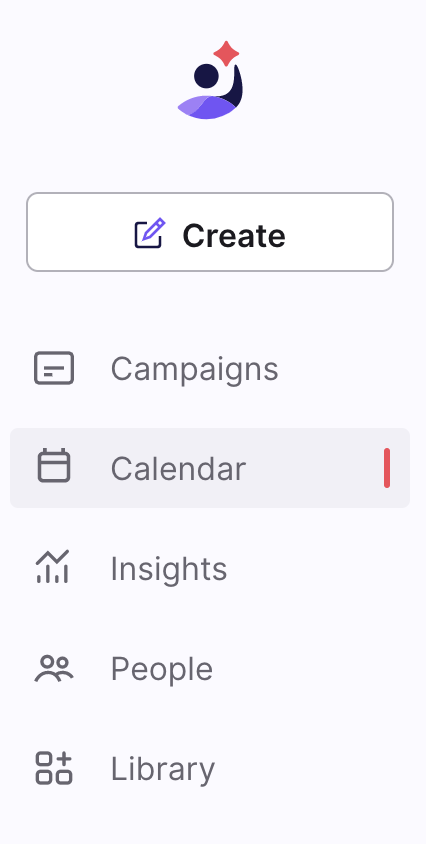 Views
Easily move through the different views to see your content and metrics at the level of detail that you need - day or week.
Click on a campaign to launch the full publisher.


Day View

Use the day view to see details about your scheduled and published content.
Title, author, and image thumbnail
Engagement metrics
Viewer count



Click View full report to view the Campaign Performance report for the campaign.
Week View
The week view is a great starting point to plan content, as you can see a snippet about what kind of content is appearing over the course of the week. You can:
Compare content across days and see gaps in content
See campaign activity


The week view can be set to include or exclude weekend days by clicking on the week header and toggling or untoggling Show weekends.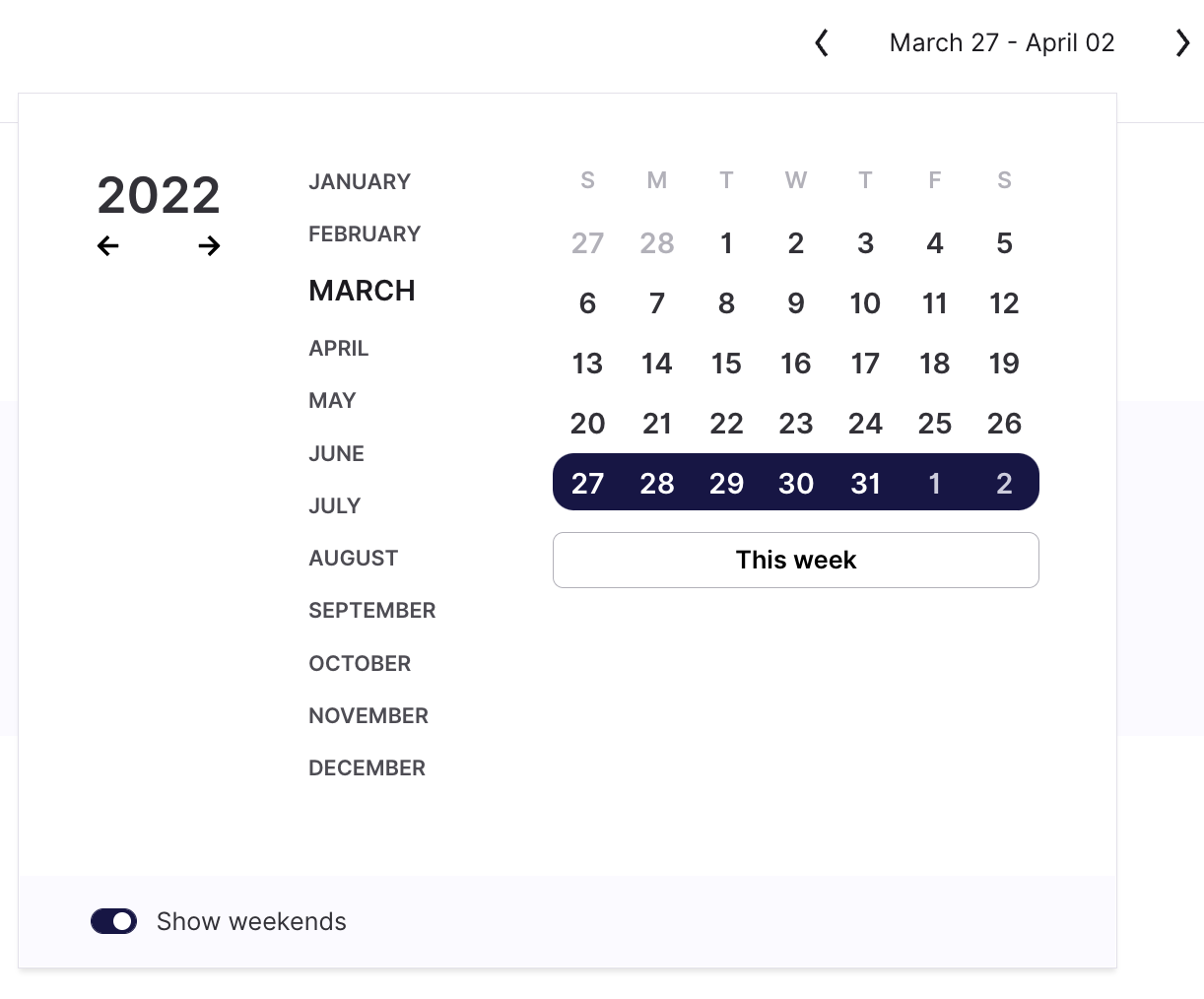 Filters
Isolate the content that you want to view using filters for current publish status, publisher, topic, content type, and/or initiatives.
The filters bar will display by default at the top of the Calendar page. Use All Filters to expand your filter options with additional details such as publish settings and flagged comments.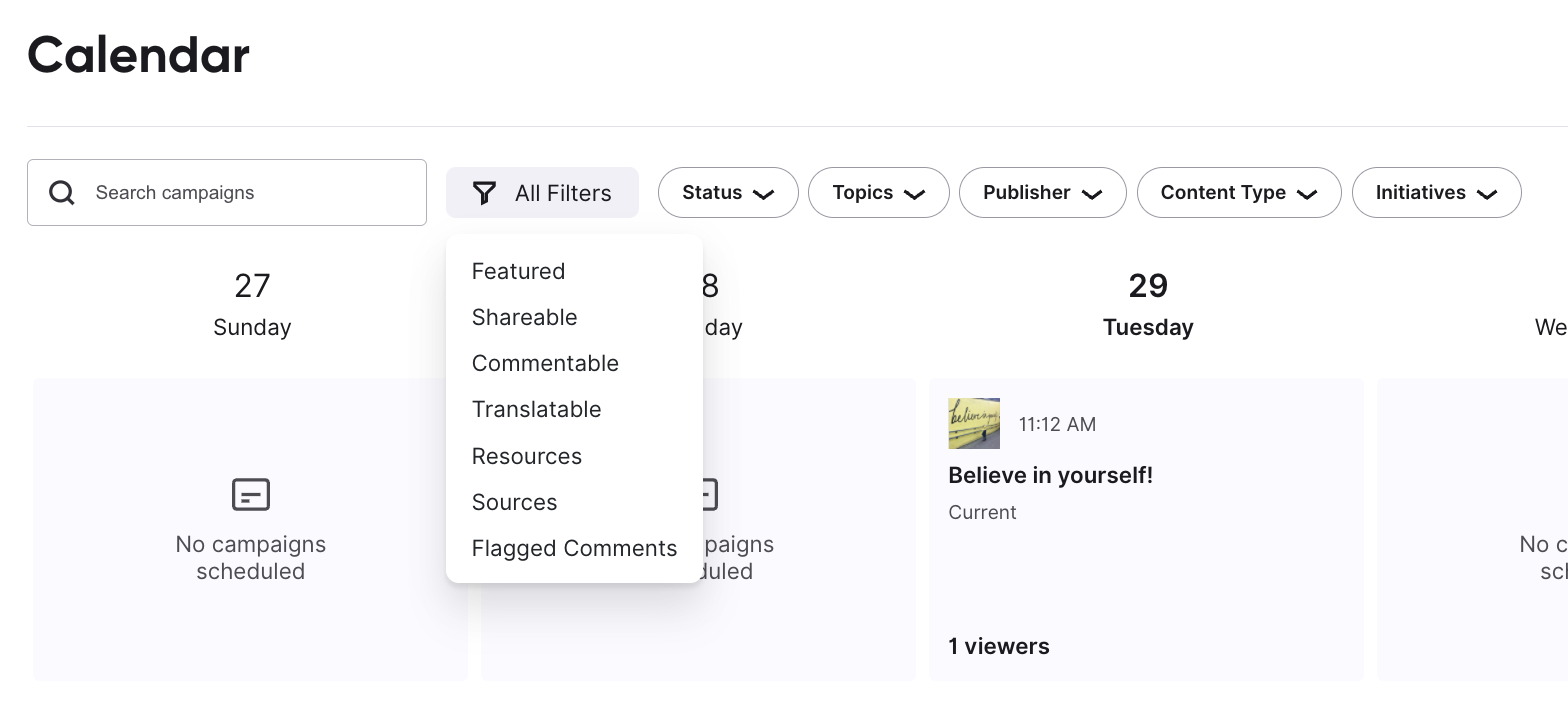 Selected items within filters will appear at the top of the list, so you can see which filters you currently have active.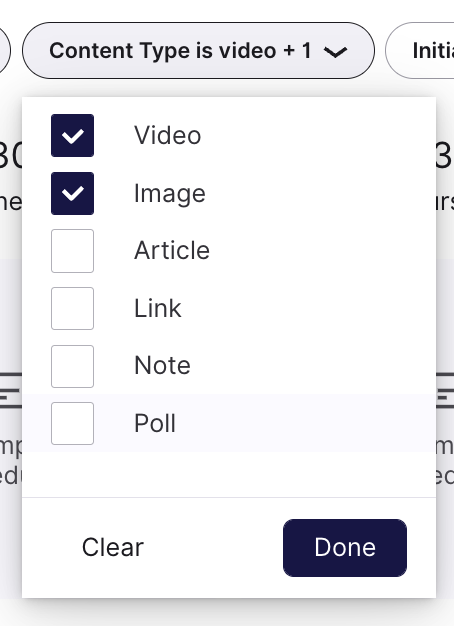 When you have items selected, you will also see Clear at the bottom of the filter. Click this link to clear a single filter without removing your other filters.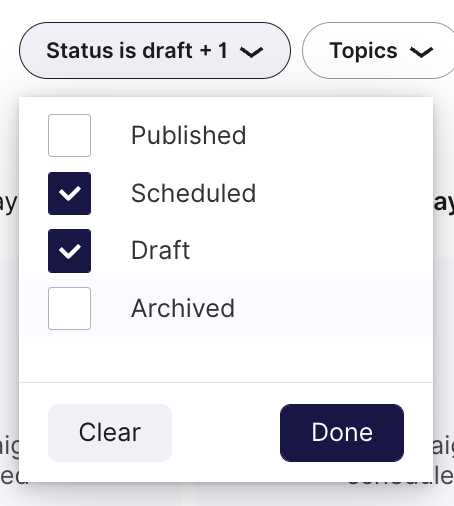 Filter: Status
Restrict content in the Calendar view by filtering the publish statuses.
Published - the only content in your community that is visible to members in the web experience and mobile app.
Draft - not visible to members, though any Studio user with access to the Campaigns section of the community can edit any drafted post.
Scheduled - content that is scheduled to move to published at a specific time in the future.
Archived - archived content no longer appears to members.
Search
Type in your text and select the Return/Enter key on your keyboard to load results.
Search will look at the Heading and Description fields across all content cards for the selected week to filter results. Search results will be displayed below. Note that search is sensitive to word order and has no wild cards.