Last updated: April 25, 2023
Duplicating a campaign can save valuable time if you want to send the same campaign again at a later date or if you want to use the same template again. Consider adding the template to your Library if the template will be in frequent use.
What Does Duplicate Do?
Duplicating a campaign makes a copy of the campaign, including all Deliver settings. Note: The scheduled publish time (Now or Later) will not be saved with the duplicate campaign.
On the Campaigns page, duplicate campaigns will be displayed under the Draft tab with Duplicate appended to the beginning of the campaign title.



Edit, Archive, Duplicate and Delete are available options for duplicated campaigns on the Campaigns page.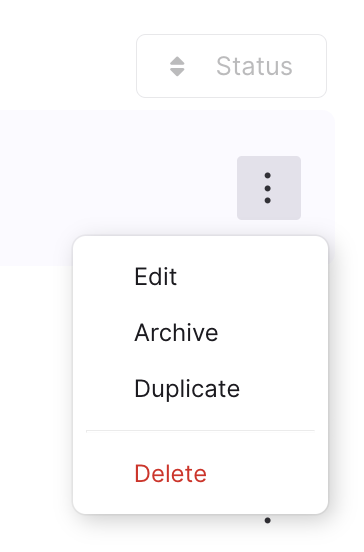 How to Duplicate a Campaign
Open the Campaigns page by selecting Campaigns from the menu on the left.




A campaign under any tab on the Campaigns page can be duplicated. Locate the campaign you want to duplicate, click on the three dots to the right of the campaign's name, and select Duplicate to duplicate the campaign.



Campaigns can also be duplicated at any time during the campaign creation process by clicking on the campaign title and selecting Duplicate from the drop-down menu.



To edit the duplicate campaign, click on the campaign.
Navigate to the Cover tab of the Design page. You will need to edit the title of your campaign to remove 'Duplicate'  from the title or you can change the title to something that better aligns with your campaign.

Before



After




Complete your campaign, including the Deliver settings.
Then schedule and click Publish to publish the campaign, or Content Creators can save the campaign as a draft for review by selecting the Save icon at the top right.