On the Deliver page of the Create Campaign flow, Studio users can access all of the campaign settings that will impact delivery of the campaign.
One particular setting of interest, Engagement Boost, was designed to balance getting information to end-users while minimizing disruption. Learn more about how Engagement Boost works here!
Feed
Feed focuses on your target topics. Defining your target topics ensures your campaigns are only visible to the relevant users in the member experience. The Feed section is also where you will specify if you want the campaign to be included in Featured or Resources in the member experience.
Topics
Topics are how posts are organized for your community in the web and mobile app experience. If you want your campaign to appear in the topic-filtered views such as Latest, Featured, Trending, and Microapps, or email newsletters that are configured to pull in content from this topic, you can target the campaign to at least one topic by clicking Add Topics.
Learn more about topics vs. audiences in this article!





If no topic is selected, you must have an audience selected. With only an audience selected, the content will still appear in the web and mobile app experience under For You. You can modify the topic selection at any time, including after publication.
Once a topic/s is selected, choose if you want the campaign to appear in the Featured feed or as a Resource.
Note: At least one topic must be selected in order for the Featured and Resources options to appear.
Featured - Enable in order to make this campaign appear in the Featured feed in the web and mobile app experience. Once enabled, you can customize the label.
Resources - Enable this feature to add this campaign to the list of links available on the Resources page in the web and mobile experience.





Throughout the Deliver page, you will notice that green and orange-colored pills indicate whether an option is enabled or disabled.




Direct Delivery
Audiences
Click Add Audiences to select from one of your frequently used audiences, search from an existing list of saved audiences, or create a new audience. The audience controls who the notifications for this campaign are sent to. Combined with priority and user history, this can mean Assistant, email, or push notifications.

Priority
Priority determines how important the campaign is and informs which channels may be used for a campaign if more than one channel is enabled. Priority also impacts the timing of notifications and whether retargeting will occur if a user has not yet opened the campaign. At least one audience must be selected in order for the Priority setting to be displayed.
Note: If Engagement Boost is turned ON, with either toggle enabled, changing the campaign priority after a campaign has been published could affect the delivery of the campaign to users based on their campaign queue, as well as which channels are utilized.


Channels
Once you have selected at least one audience, you will be able to choose your channels. Your audience will receive the campaign on one or more channels. Click Edit to select which channel/s (Email, Assistant, Push notification) your audience will receive the campaign on. This will also help define retargeting preferences.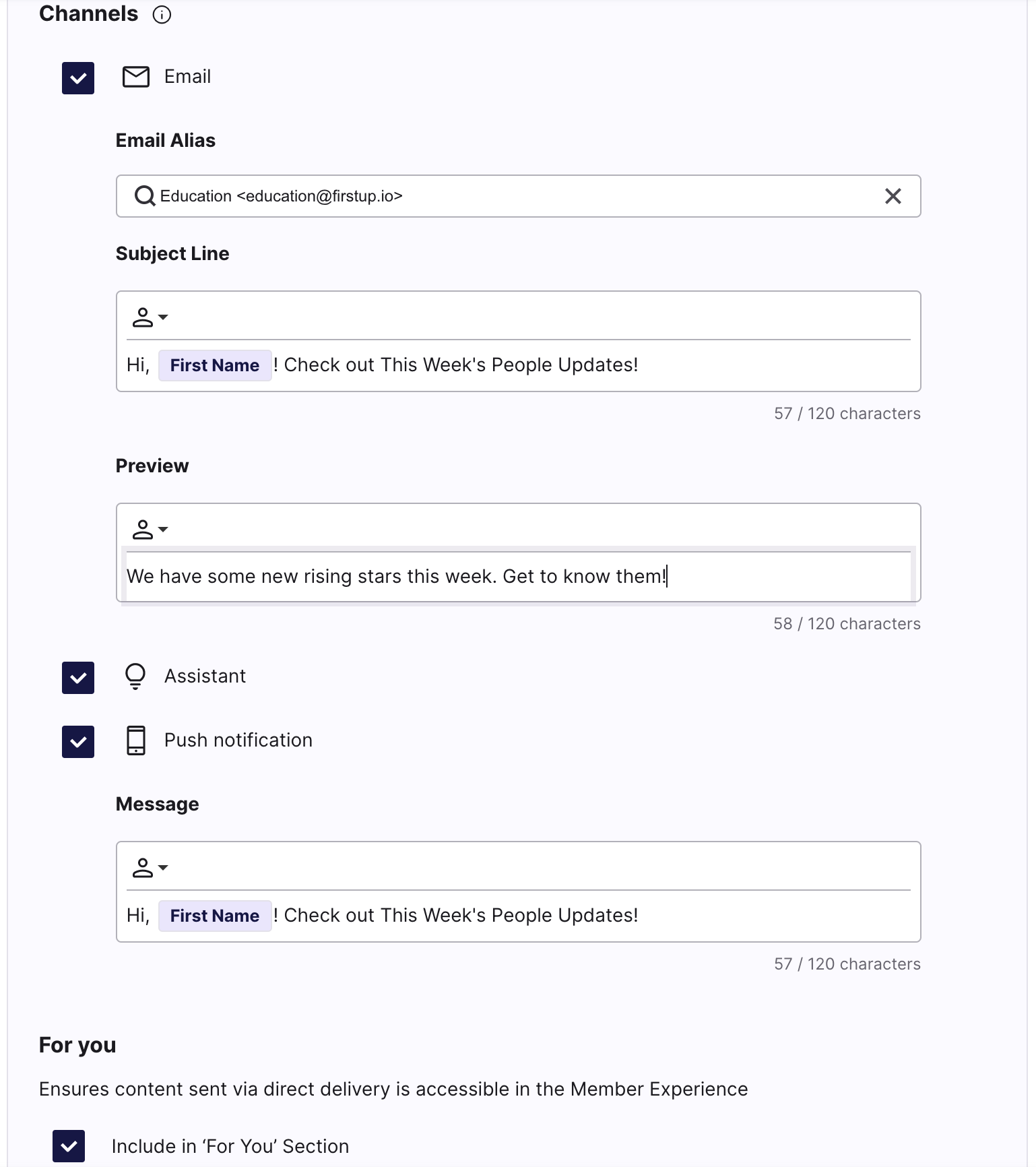 Email
With the Email channel enabled, members of your audience/s may receive a campaign notification via email. Choose from your assigned email aliases to customize who the email segment of your campaign will be sent from. You can customize your email subject line and message and even add personalization variables.
Metrics note: If an email is sent to a distribution group, any interaction that happens on that email would be associated with a single user, the distribution group. The same also applies if an email is forwarded. This is because email tracking happens through:
A pixel embedded in the email (opens). That pixel is unique to the recipient and does not change if different people are opening an email intended for another user.
Tokens on links - These tokens are unique to each recipient. For example: If someone forwards you an email intended for them, you are interacting with a link that only tracks activity for them and will only be associated with that user.
Assistant
With the Assistant channel enabled, members of your audience/s may receive a campaign notification via Assistant in the web and mobile app experience.
Push Notification
With Push notifications enabled, users may receive a campaign notification via a push notification. You can customize the push notification message that will be deep-linked to your campaign, including personalization variables.
For You
If you have this feature enabled for your community, you will see the option to include or exclude campaigns sent via Direct Delivery from 'For You'. Selecting this option ensures campaigns sent via Direct Delivery are also accessible in the member experience in the feed view, even if a topic is not selected.
If you do not see the option 'For You', the ability to opt into or out of 'For You' is not enabled for your community. This means that all campaigns targeted to only an audience will, by default, appear in 'For You'.
Note: Since push and Assistant notifications cannot be resent, audience-only campaigns with 'For You' disabled can't be revisited once opened.
Engagement Boost
When Engagement Boost is turned on, it optimizes campaign delivery based on the behavior of your users, their learned preferences, and competing communications. Engagement Boost can be utilized in 4 different ways. In other words, Engagement Boost will optimize the performance and fatigue scores.
With Engagement Boost turned off, your campaign will be sent only once (at publish time) via your selected channels. There will be no intelligent delivery based on the data of your users or community. When Engagement Boost is off, you will need to manually aim for high performance and low fatigue by adjusting the selected channels, publish time, and other Deliver page settings.
The Engagement Boost settings can be combined in four different ways, as outlined below.
Optimized Delivery ON and Automatic Retargeting ON- Engagement Boost

decides timing, channels, and frequency of deliveries and re-engagement attempts for the campaign

 based on user behavior. (Equivalent to Optimize on the previous Orchestrate page)




Automatic Retargeting ONLY - Engagement Boost sends the campaign to all users at the selected publish time, but optimizes based on channel, and decides the timing and frequency of re-engagement attempts for the campaign based on user behavior. (Equivalent to Hybrid on the previous Orchestrate page)




Optimized Delivery ONLY- Engagement Boost

determines the best time and channel to send a single delivery of the campaign during the selected duration based on user behavior

with no retargeting attempts. (No Orchestrate page equivalent)




Engagement Boost OFF -

Engagement Boost makes a single delivery to all users at the selected publish time with

no retargeting attempts.

 (Equivalent to Override on the previous Orchestrate page)

With multiple channels selected, the engine will use user channel reachability data and campaign priority to determine which channel to target users on.

Ex. This would be a good setting if you have a truly critical communication that you need to go out immediately to all users in your audience (see Hurricane Crisis Comm) and no retargeting is needed.



Duration
Duration is the length of time the campaign has to potentially send the initial notification, as well as any retargeting notifications. Keep in mind that a short Duration limits Firstup's ability to optimize delivery. Therefore, we do recommend as long a Duration as makes sense for the campaign. We know that you would not want a reminder about a Company Town Hall to go out after the town hall has concluded. On the other hand, you do not want to set the Duration to 2 days and risk zero notifications going out because recipients have busy campaign queues and your campaign would increase fatigue too much.
Duration and Archive Date are two distinct features. If you schedule an Archive date, the campaign will be removed from the member experience and all retargeting attempts will cease on the Archive Date. Duration simply defines the frame of time in which retargeted notifications may be attempted and afte
Note: If an audience is not set, the Engagement Boost section will not be displayed.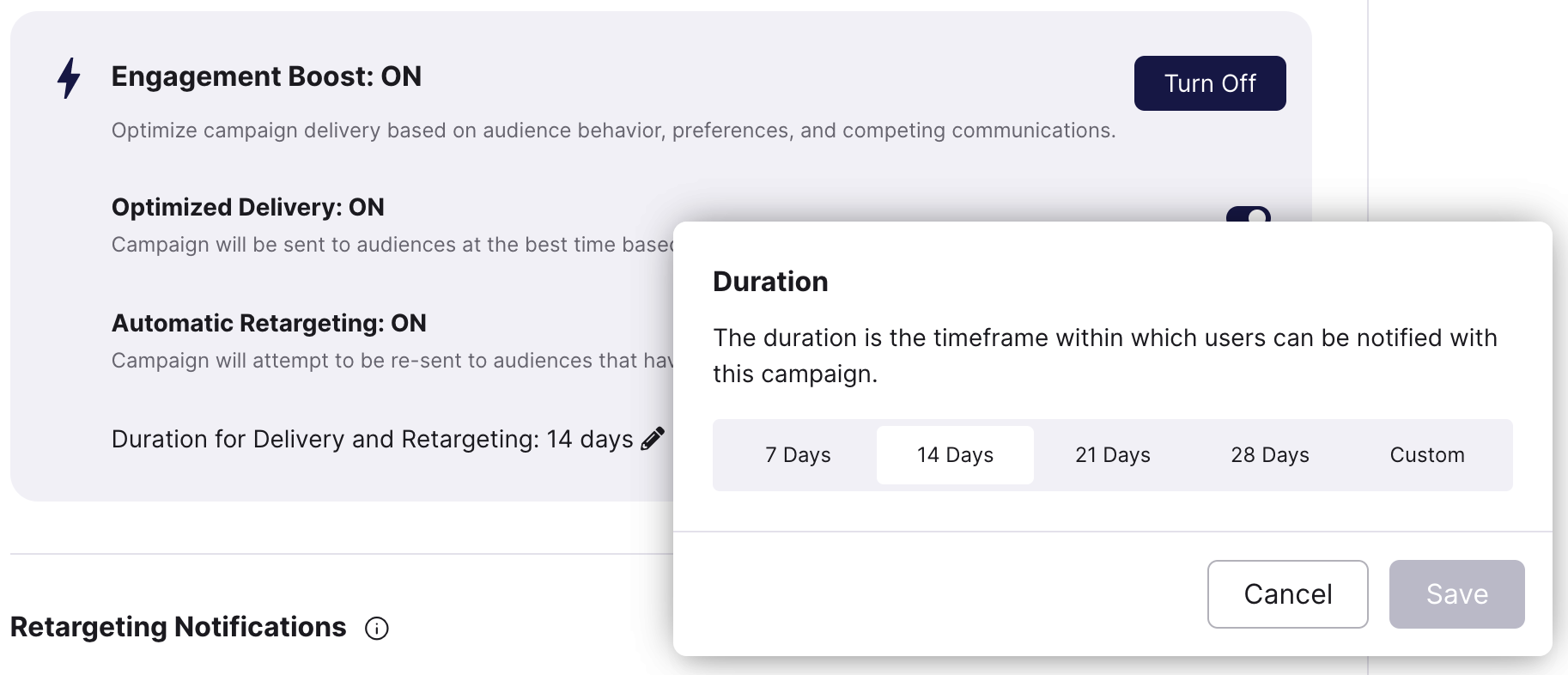 Retargeting Notifications
If retargeting has been enabled for your campaign, you can add retargeting notifications to send different messages per attempt to users who have not engaged. Click + Add retargeting notifications to create custom email and push notification messaging, including personalization variables. Retargeting notifications will be utilized in the order they are configured. Retargeting attempts will end once the user has seen the campaign (through an email open, push open, or opening the campaign directly in a feed or from Assistant).
Note: There is no guarantee that all configured notification text will be used or a guarantee of delivery. The last configured text will be re-used if more retargeting attempts are sent, and the initial notification text will be used if no retargeting notifications are set.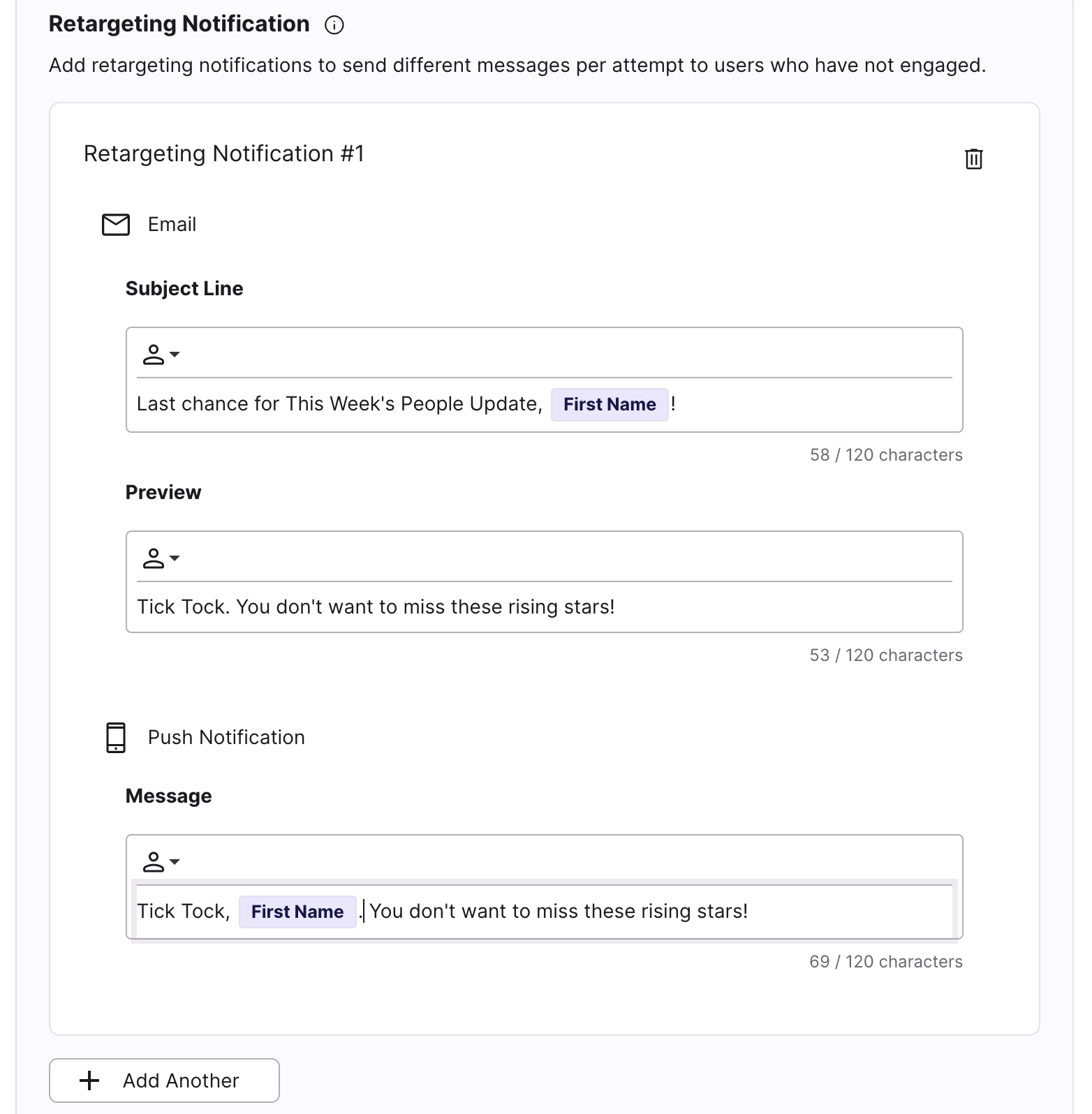 Content Settings
Author
The user will always appear as the default campaign author, but you can click into the search box to select an assigned author alias/community name from the dropdown menu to use instead.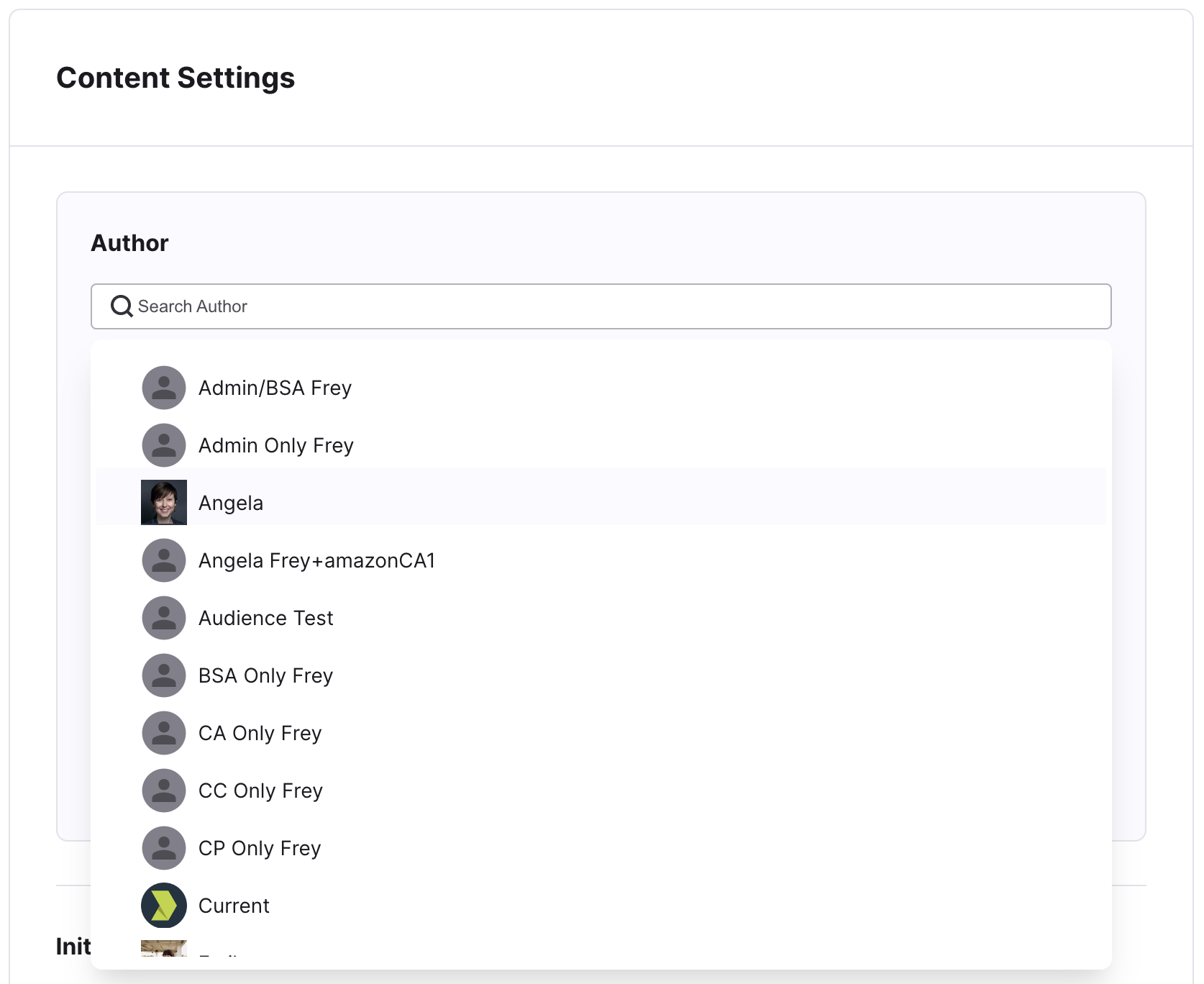 Engagement
The Engagement section allows you to apply action items to your campaign to increase engagement. (Some toggles may already be enabled or disabled based on your community's default settings.) Options include the ability to assign initiatives to help track your business objectives, as well as the option to choose whether you want the community itself or another user to be listed as the campaign author.
Note: A campaign cannot both require acknowledgment and allow shares externally.
Allow comments - Enable to promote engagement.
Allow Translation - When enabled, users that are browsing content with a device set to a different language than the content will see a translate icon on the post. (Note: This is a premium feature.)
Require acknowledgment - When enabled, you can ensure users have seen a campaign by including a customizable acknowledgment button on campaigns.




Allow Shares Externally - You can enable this to make the share icon appear to users. When enabled, the pre-populated share message becomes available.

Share Message - Craft a suggested share message for users. This share message can be edited by users and will be suggested to users depending on which network they share to and your community configuration.
Public URL Slug - This will be added to your community's URL to uniquely identify the campaign when shared externally


Initiatives
Click + Add initiatives to assign an initiative to the campaign to aid with tracking on business objectives. When an initiative is assigned to a campaign in Studio, that initiative label is only visible to Studio users. There is no change in the member experience when a campaign is assigned an initiative, however, you can report on initiatives in Studio.




Click into the initiatives box to select an initiative from the drop-down menu.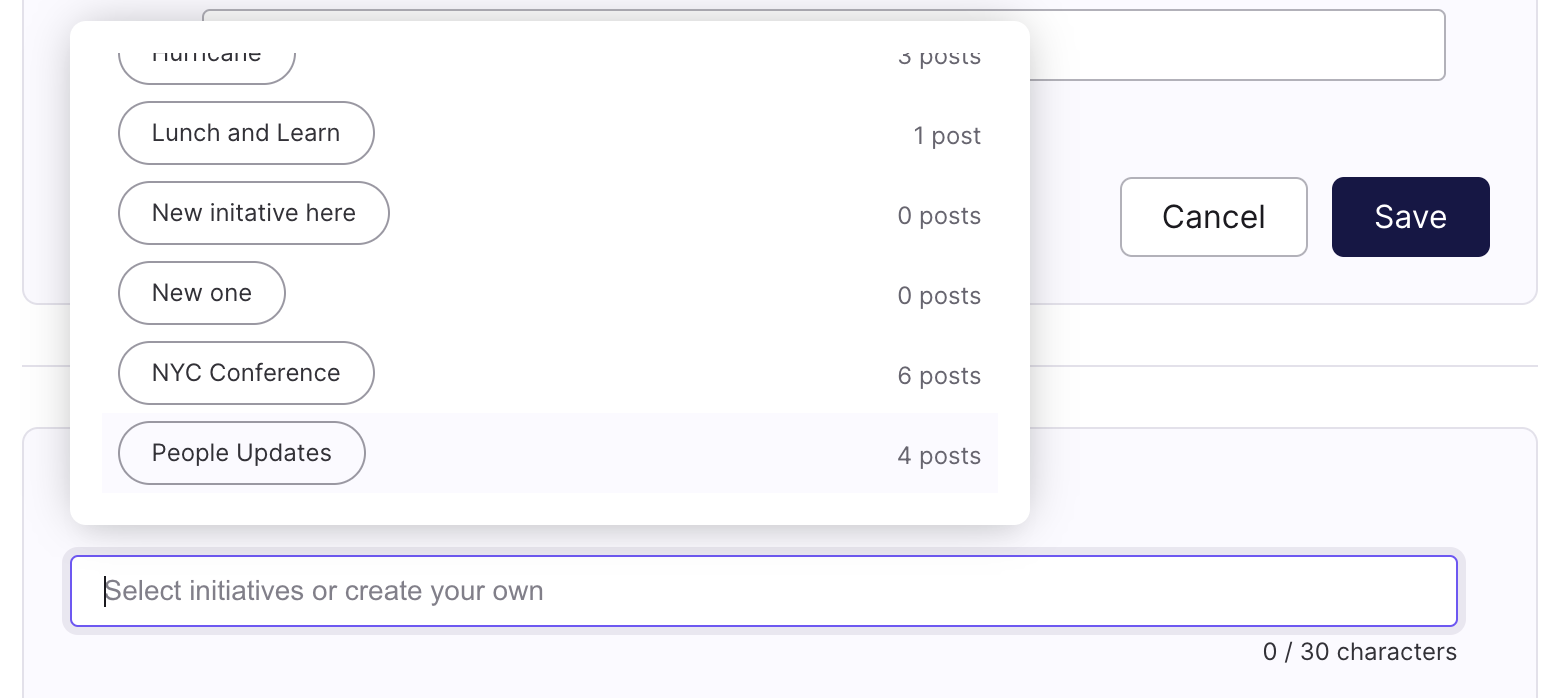 Schedule
Specify a date and time for the post to be published. The time that you select will be set in the same time zone as your device. For example, if you schedule a publish time of 9 am EST, the post will publish at 9 am EST/6 am PT. By default, campaigns are set to be published immediately, however, by selecting Schedule For Later, you can choose a later date and time.
From this view, you can also choose a date and time to archive your campaign. Toggle on Add archive date to select a later date and time. With Add archive date toggled off, the campaign will exist indefinitely.