In Classic Studio, you could set up a Smart Campaign while creating and publishing content. A Smart Campaign meant that users received a push or an email to draw them into the content. The configuration settings allowed automating a campaign stop based on a Goal, how long any follow-up may continue for (Run Time), and who would receive the Smart Campaign notifications (Audience).
In the new Studio, the Orchestration Engine fulfills the same automated follow-up, but with even more personalized intelligence. Where Smart Campaigns had a strict follow-up cadence (that could only be interrupted by fulfilling the Goal), an Optimized campaign with Orchestrate will determine when and how to follow up with users based on each individual user's engagement history and current campaign queue.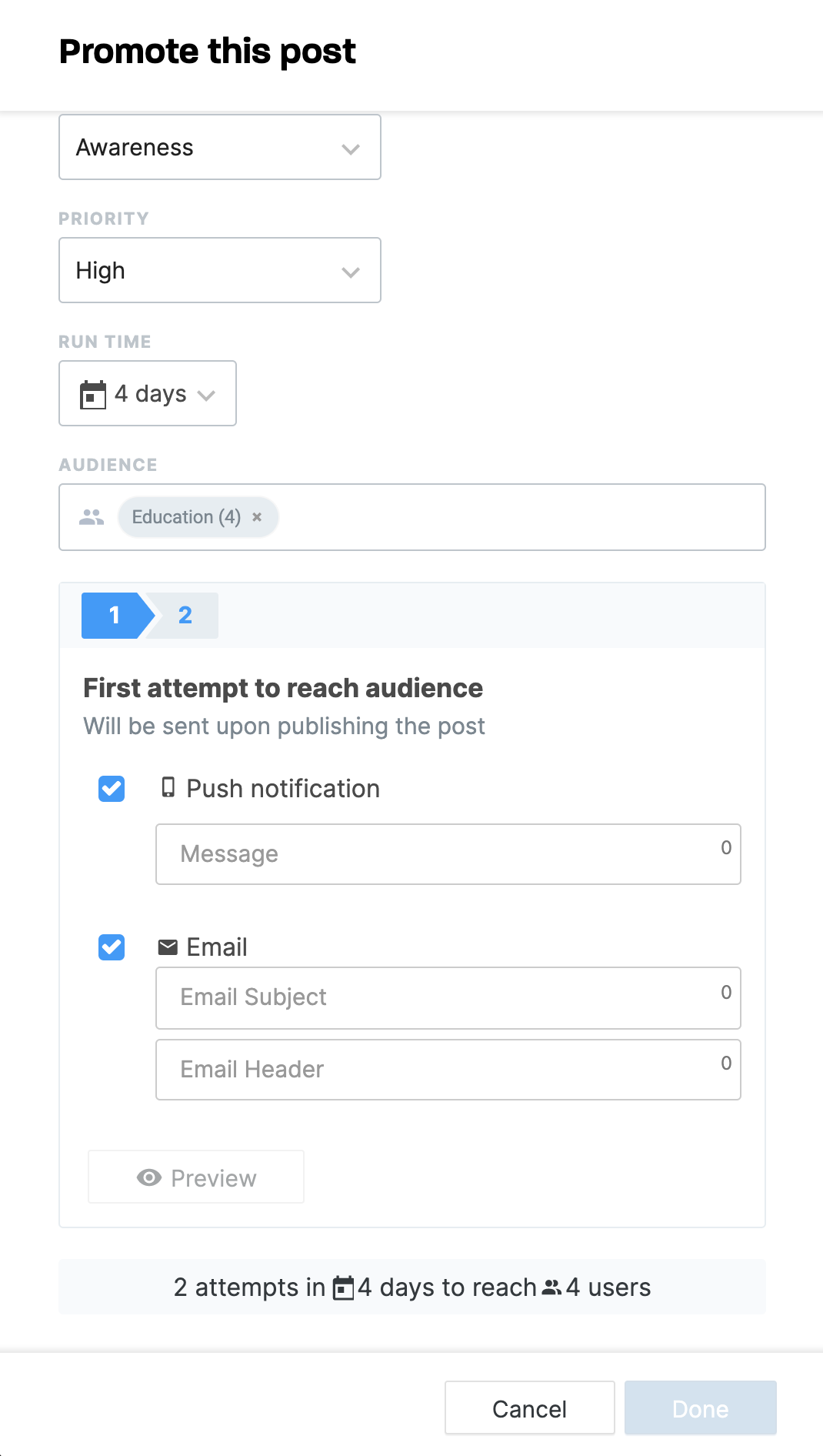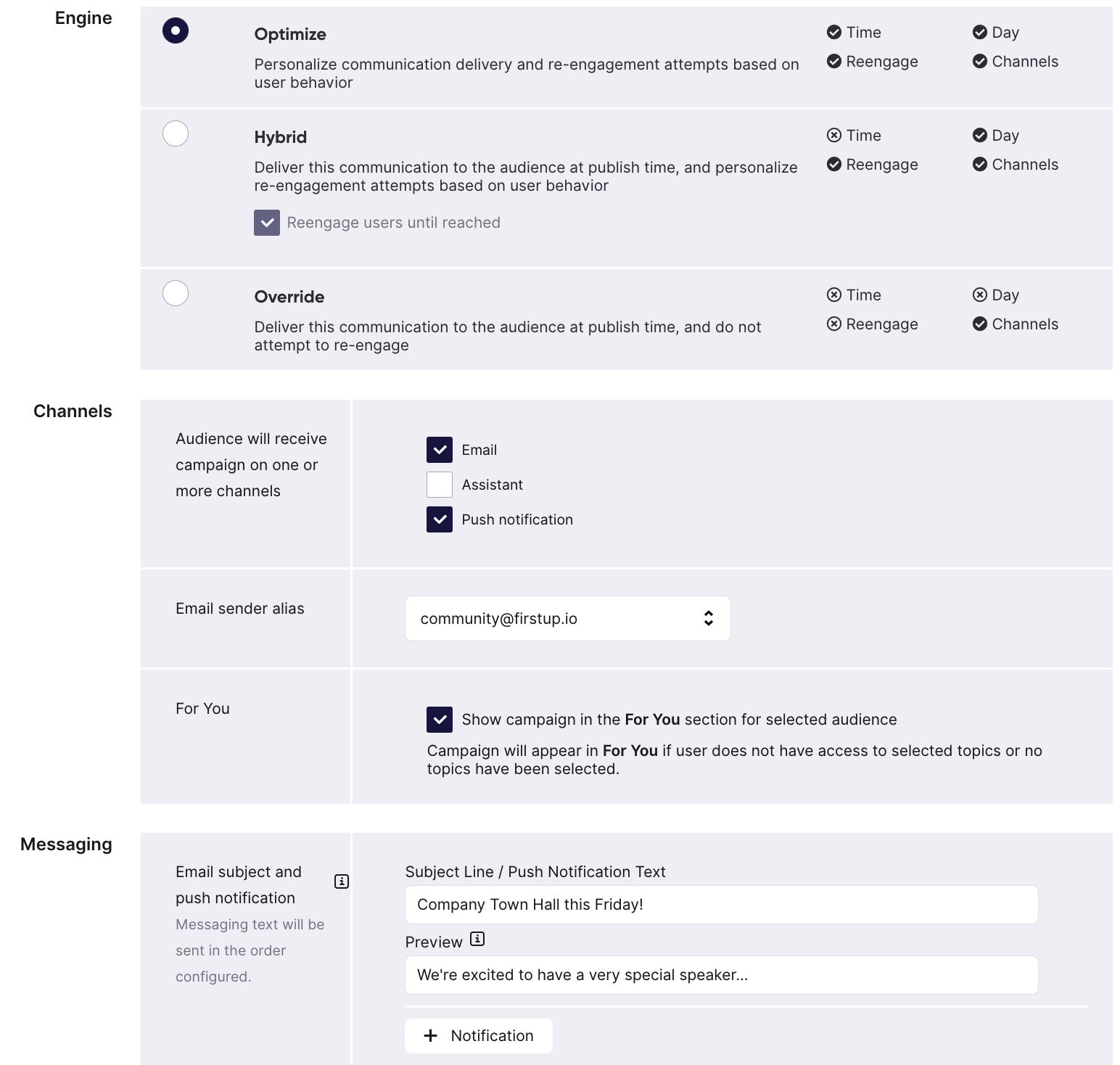 Where is it Now Feature Map
| | |
| --- | --- |
| Smart Campaign | Orchestrate |
| Awareness Goal - Stop follow-up after content is viewed. | Does not need to be specified - if Optimize or Hybrid are selected, follow-ups stop after a user views the campaign. |
| Acknowledge, Share, and Comment Goals - Stop follow-up based on users clicking acknowledge button, sharing, or commenting. | Currently, automated follow-ups only stop if a user views the content. However, the ability to enable acknowledgment, sharing, and commenting still exists. |
| Priority impacted whether multiple notifications would go out. | Priority now determines how the campaign is weighted against other campaigns in a user's queue. |
| Run Time | Duration |
| Audience | Audience |
| First Attempt - If Push and Email are selected, the system only uses one method to reach a user. | Channels - if multiple channels are selected, each follow-up will be calculated based on the individual user's engagement history, preferred channel, and campaign priority. Only one channel is used at a time. |
| Send notifications upon publish, or delay them. | To send the first notifications upon publish, choose Hybrid. To send the first notifications at an optimal time for your users, choose Optimize. If you want to send notifications at a very specific time after the campaign is initially published, you can create a second campaign that links back to the original. |
Example
Let's get very specific with an example. What if you would have set up a Smart Campaign with an Awareness Goal, a 4-day run time, and two follow-ups, using both Push and Email?

Classic Studio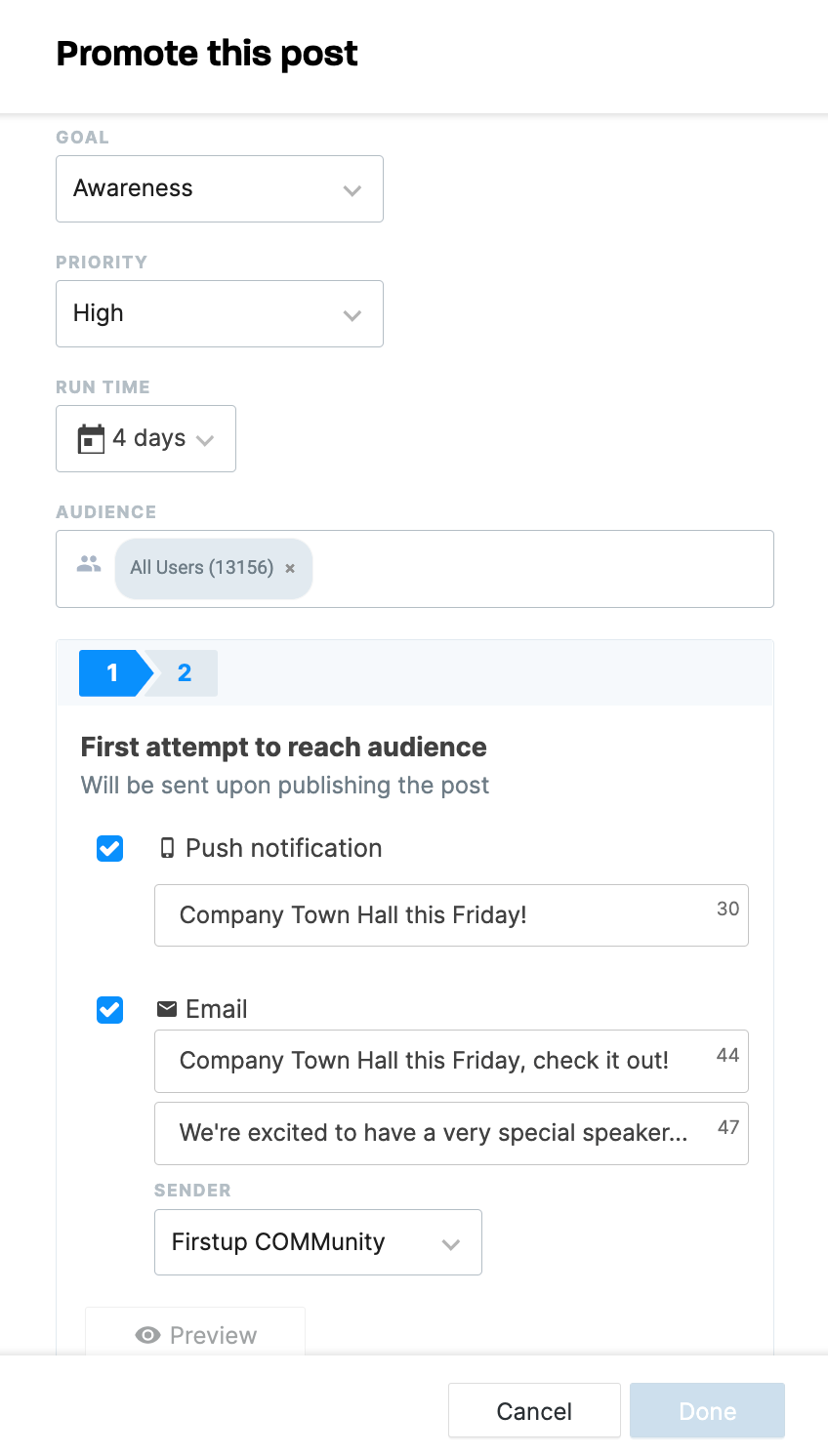 In the new Studio, you would select very similar settings. You would select the same Audience, Duration (i.e. Run Time), check Email and Push, set the sender to your desired email, and even customize the text. You would then choose Optimize or Hybrid to mimic the Awareness Goal.
The difference here would be the addition of choosing the Orchestrate Priority - this helps the system juggle this campaign with other campaigns in a user's queue. Additionally, the email subject line will be the same text presented in the push (the preview text is still for only email). If you configure more than one follow-up, you do not control the order.
In both cases, the emails and push notifications will not start going out until you click Publish. If you want the first email/push to go out at the time of publishing, choose the Hybrid Engine. If you want to maximize the power of Orchestration, choose the Optimize Engine - the first notification will go out at an optimal time for your end-users.

The new Studio