Note: This article only applies to Community Admins, Brand Super Admins, or applicable custom roles. For more details on Studio access, please refer to the Defining Roles and Restrictions article.
If any of your community's initiatives are out of date, then there are a couple of options. Community Admins and Brand Super Admins can rename, archive, or delete initiatives.
How to Rename, Archive, or Delete an Initiative
Select Configure from the menu on the left and then the Initiatives tile.




Click on the three vertical dots next to an existing initiative and select Edit.




Edit the initiative as desired. You can:

Rename the initiative
Archive or unarchive the initiative
Delete the initiative

Click Save.
Archive vs. Delete
Archiving an initiative will prevent Studio users from assigning the initiative to any new campaigns, but the initiative will still appear in the Calendar filter and in any reports related to initiatives.
In the example below, Lunch and Learn has been archived. Note that you can still see and edit Lunch and Learn from the Initiatives page. Also, you can still filter to campaigns with the initiative assigned. However, you cannot assign Lunch and Learn to a new campaign.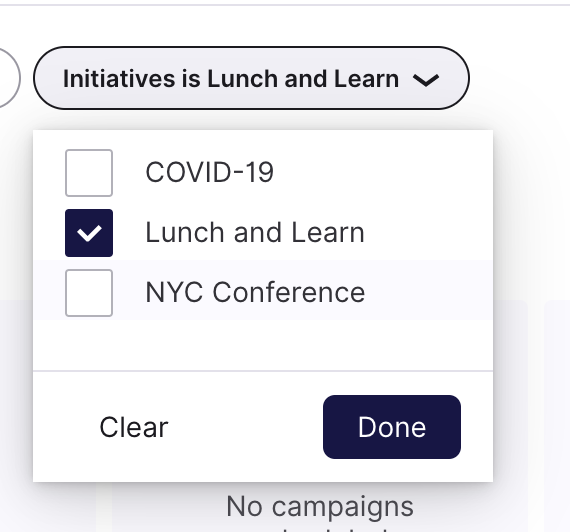 Deleting an initiative will remove the initiative from existing campaigns and permanently delete the initiative from all views and all reports. Only delete an initiative if you do not need to see anything related to the initiative anymore.


Unarchive an Initiative
On the Initiatives page, select the Archived checkbox from the Status filter and click Done.




Select the checkbox next to the initiative(s) you want to archive or select the checkbox at the top to select all archived initiatives. Click the Active button.




Confirm that you want to unarchive the initiative(s).