For end users, accessing certain types of content may be a bit tricky. Different steps may be required or they might not be able to view some content at all, depending on what device they're using. And since design standards vary across different channels (email, web, mobile, and microapps), it becomes challenging to create a visually consistent campaign that end users can view seamlessly across all channels.
Targeting blocks by channel lets you choose which channels your content appears on, as well as create multiple versions of content blocks within a single campaign, customized for different views across specific channels. This ensures a consistent and tailored experience for employees, no matter where they view the content, and makes it easy for administrators to keep track of everything from one central place.

Note: iOS and Android channel settings will apply to both the mobile app and web on mobile.
Visibility
All blocks are set to be visible on all channels by default. The only exception is the email link block ("Join the conversation! Open in web experience to comment"), which is set to be visible only on email. However, users can adjust the visibility settings for all channels except 'Web' for the email link block. You have full control over the "Join the conversation! Open in web experience to comment" message, allowing you to customize the link text or remove it entirely when necessary. You can access this link block within your library under "Email Link".



How to Target a Block
Hover over the block you would like to edit the channel visibility for and click the Edit icon.



Click the Section tab.




Edit the channel visibility for your block.


Note: If you disable a block on more than 3 channels, you will receive a 'Low block visibility' warning. And if you disable the block on all channels, you will receive a 'Block is hidden' warning. Once hidden, the block will not appear in the campaign on any channel.



Once you have finished designing your campaign, click the Preview tab to see how your campaign will appear on each channel, including the channel/s your block/s are not visible on.

Mobile



Web



Email (not visible)



Microapps (not visible)


Block Badge
If a block has one or more channels hidden, a badge will appear on the drag handle to indicate this on the campaign canvas.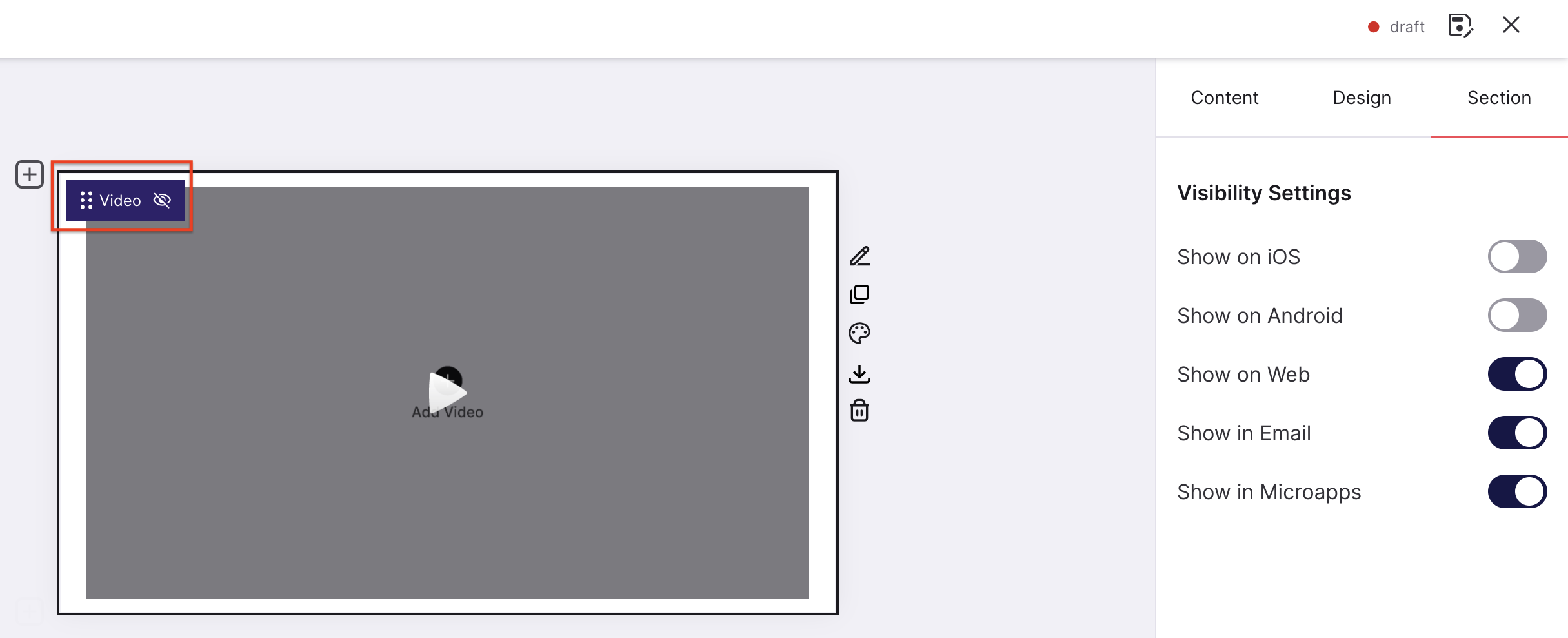 Review Page
The Review page will include a bullet informing users which channels have one or more blocks of content hidden within the campaign. Hovering over the number of channels will display which channels have hidden blocks.