Note: This article only applies to Brand Super Admins or applicable custom roles. For more details on Studio access, please refer to the Defining Roles and Restrictions article.
In addition to Firstup's default roles, Brand Super Admins are able to create custom roles from a set of detailed permissions. This allows customers the exact access Studio users need for their specific use cases. Custom roles were designed for users with very specific goals outside of the standard user that may require access to specific areas of the platform, such as an IT Admin or Analyst.
Roles are created using permissions toggles broken down into groupings with sub-permissions within the following areas of Studio:
Campaigns & Calendar

Insights

People

Library

Configure
Note: Topic and audience restrictions are not set at the role level. These restrictions are set at the user level on the User Details page.
Role Considerations
When determining an individual's custom role, some important considerations are:
Publishing: Does this communicator need to publish content or just create it?
Audience: What employee groups will this communicator need to reach?
Channels: Does this communicator need to send emails, push notifications, or Assistant notifications?
Priority: Is this communicator responsible for Critical messages?
Features: What features/capabilities does this communicator need to use to achieve these goals? Access to Insights? Create Audiences? Moderate comments?
Create a Custom Role
Sign in to Studio as a Brand Super Admin or an applicable custom role.
Navigate to Configure > Roles.




Click the + Role button.


Name the custom role and give it a description. (The use case for this example is an IT Admin, a user who we want to only be able to manage security configurations and branding assets. This is a non-publishing role.)




Enable the toggles for your custom role.




Save the role.


Your custom role will now be displayed on the roles page.
Assign a Custom Role
A custom role can be assigned to a current user or when creating a new user under the Permissions section of the User Details page. Select the role from the drop-down Role menu and then, if applicable, assign any topics, audiences, campaign templates, email aliases, or author aliases. Once the role has been assigned, click Save to assign the custom role.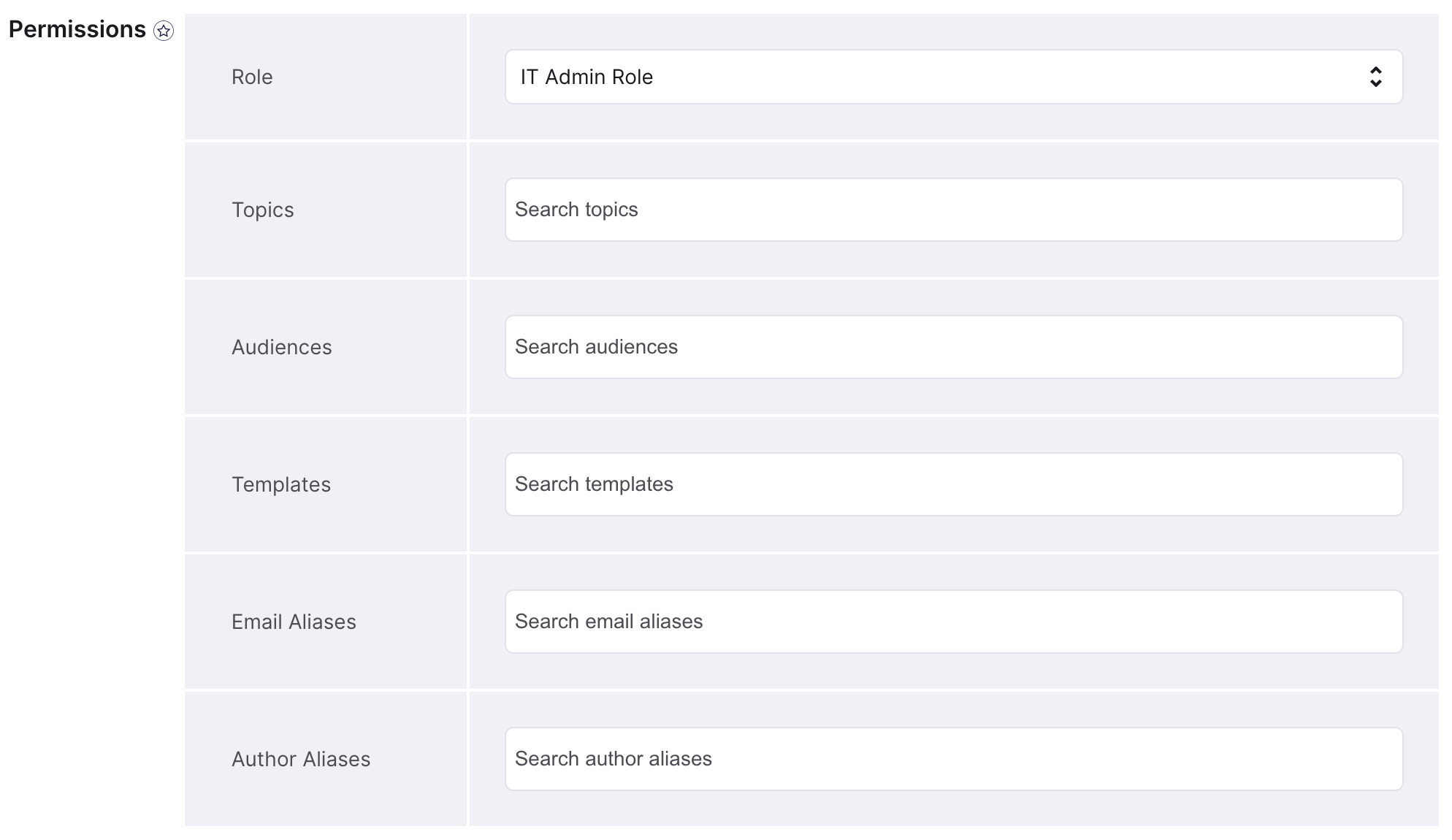 Now, using our IT Admin example above, when an IT Admin signs in to Studio, they will only see the Configure areas they have permission to access.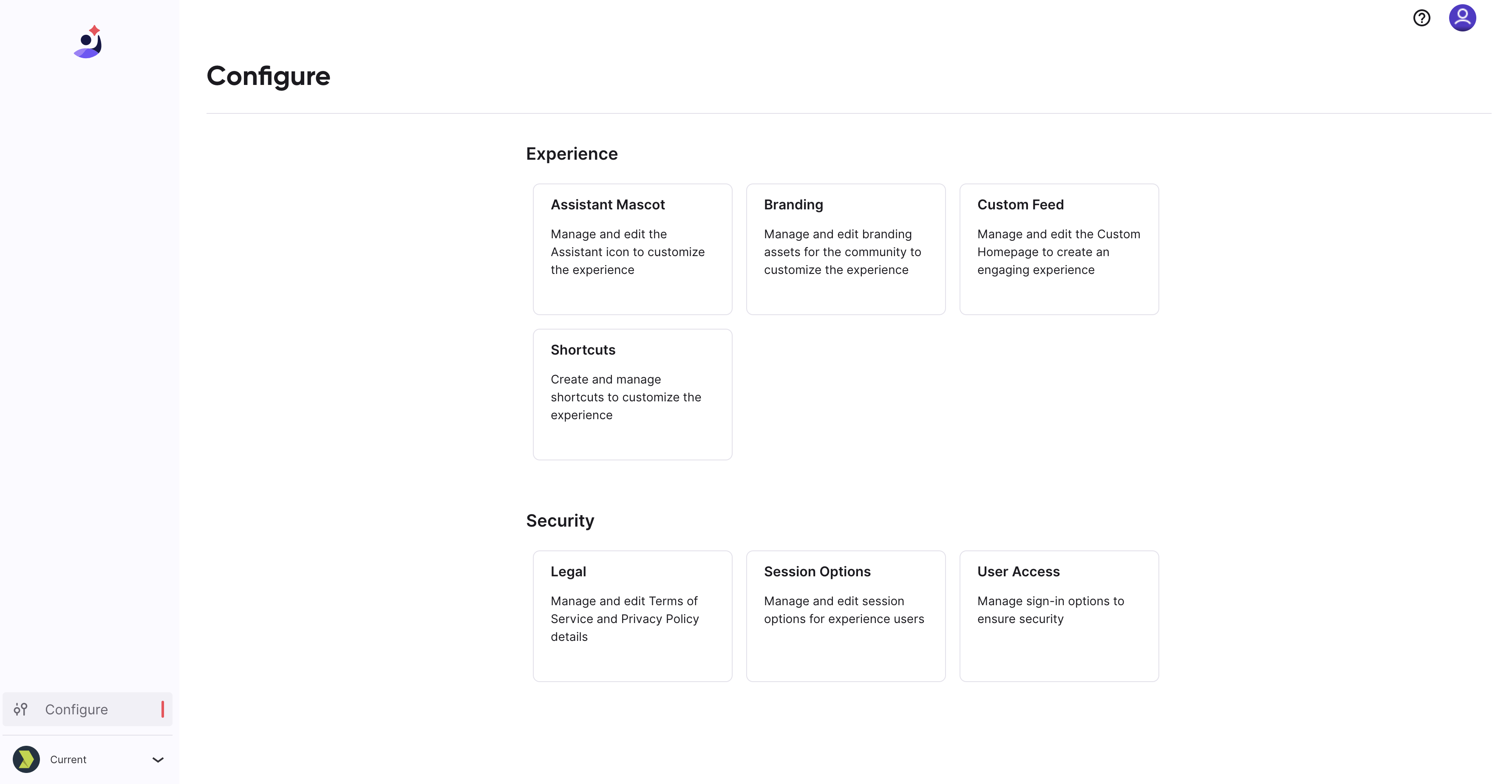 Toggles
 
Toggle
Description
Campaigns & Calendar -Create, compose, and save campaign drafts

 

 

Assistant Notifications

Enable and manage assistant (in-app) notifications on campaigns

Email

Enable and manage email notifications on campaigns

Push Notifications

Enable and manage push notifications on campaigns

Publish Campaigns

Publish campaigns to the feed and assigned delivery channels

Send to Assistant

Send content to Assistant

Moderate Comments

View comments, manage flagged comments, and delete comments

Set as Critical

Set campaigns to critical priority

Create Private Drafts

Create private campaign drafts that are not visible to other users

Insights -View all reports in the Content Publisher collection in Insights

 

 

All Reports

View all reports in Insights, including community-wide data around adoption, search, commenting, polls, and campaigns

People - View audiences and users in the community

 

 

Add Users

Add and invite new members to the community, individually or via bulk import

Create Audiences

Create and edit audiences

Library - Manage the assets available to studio users in your community library

 

 

Manage Templates

Create and manage campaign templates

Manage Fonts

Upload custom fonts and manage standard fonts

Manage Images
Create and manage categories and images
Manage Blocks
Create and manage custom blocks
Configure - View and manage community configurations

 

 

Security

Access to the "Security" section on the 'Configure' page, including Legal, Sessions Options, and User Access

Administration

Manage administrative settings including roles, account settings, and advocacy

Content

Manage content settings including topics, initiatives, feeds, email aliases, and user imports and exports

Workflows

Manage workflows including user onboarding and welcome emails

Experience -

Assistant, Branding, and Custom Feeds

Manage experience settings including branding, feed customization, Shortcuts, and Assistant

Experience -

Microapps

Create, enable, and manage microapps

No Restrictions

 

 

 

Access to all campaigns, topics, audiences, templates, email aliases, and author aliases
Video
For visual learners, check out our video on how to create and assign custom roles.